Star Staff: Comedian Dru Burks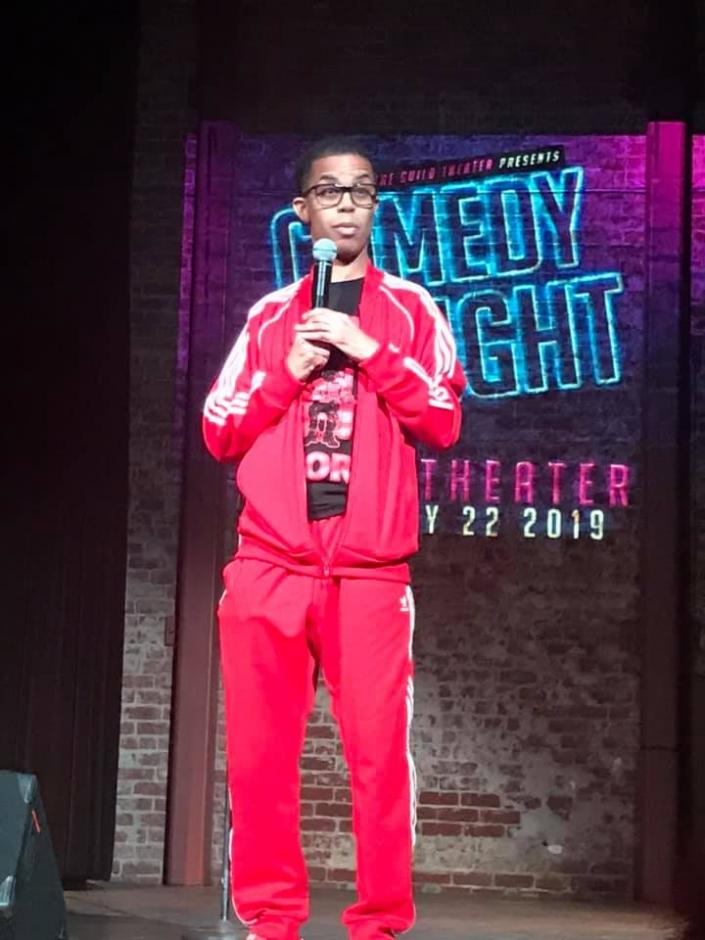 If you've been near the Guild Theater or the Student Store lately, you've probably seen him around. Dru Burks, our favorite comedian and funny man, runs the show – the Comedy Show at the Guild Theater every month and keeps the laughter rolling! A long time HOPEster, Dru joined our team in 2018 but has some former history with the organization.
Q: How long have you been at St. HOPE?
A: I've been working for one year, but I have been a part of St. HOPE since the very beginning. My aunt, Patricia Burks, who is a Kindergarten teacher at PS7 Elementary, took me to St. HOPE's after school program every day in the early 90's. I was one of the originals!
Q: Tell us a little about what you do at St. HOPE?
A: I make people laugh, manage the student store and co-manage operations at the Guild Theater.
Q: Tell us a little about yourself – how did you get into comedy?
A: I grew up in Sacramento, born and raised, and graduated from Kennedy High School. After I graduated, I went to college. About 14 years ago a friend of mine signed me up for open mic night and I didn't know about it. They called my name and I went up without any prepared material and the crowd started laughing. From there, I just started doing open mics because I liked that I could make people laugh. I did open mics around Sacramento and started to make money just to make people laugh. Then, I started travelling back and forth to the Bay Area. Once I realized I could make a living as a comic, I took it more seriously and the shows got bigger and bigger. Eventually I began headlining shows at Punchline, Tommy T's, and Laughs Unlimited. Fast forward to 2018 – a few HOPEsters reached out to me to see if I was interested in bringing my comedy to the Guild Theater. I was already doing my own thing but thought, why not? It would be a great opportunity if I could produce and host my own comedy shows. Soon after, St. HOPE asked me to come on board as an employee and the rest is history!
Q: Do you have any advice for up and coming comedians looking to take the stage?
A: The best advice that I can give is never give up. Always put the fear of the stage behind you because God gave you a gift to make people laugh, and if that's the gift God gave you, you have to use it!!
Q: Tell us about the comedy shows?
A: The comedy shows are every last Friday of the month. I book local and major headliners from all over, either comics that I have worked with or have seen at shows that I wanted to work with. I host the show which is great because I still get to tell jokes in between the comics' sets. The Guild is a great setting. It's not your typical comedy club with a bar in the back where your set might get interrupted because someone is ordering drinks. People are coming to see comedy so you don't have to worry about that. I like that we are bringing culture back to the Guild and Oak Park and we have diverse comics who have a new home where they can showcase their talents.
Q: What are some things we can look forward to?
A: The next show is Friday, March 22 and we have Wendy Lewis – she's a female comic that headlines Wednesday nights at the Punchline. Zack Edlow – he's an up and coming comic that is starting to make a name for himself in Sacramento. Hannibal Thompson – out of San Francisco but travels over the world and does military tours for the troops. Headlining is G King – he just finished filming the Kevin Hart special, Hart in the City on Comedy Central. And me, of course, ha! We also show movies at the Guild every Sunday at 2:00 pm – a different movie every week! We also recently renovated the lobby at the Guild. The next phase is paint in the main theater and a new sound system.
Q: What are some interesting facts that you'd like to share?
A: I will feel like I've made it big time when I sell out the Golden 1 Center and get an interview at the Oak Park Speaker Series with Kevin Johnson. Also, I am 45 about to be 46 and I'm stuck in a 12-year old's body, haha!
Come check out Dru next Friday at Comedy Night. Purchase tickets here at Eventbrite and stay up to date on future events by following the Guild Theater on Instagram @guildtheateroakpark. See you soon!