Staff Star: Mr. Antonio Sarabia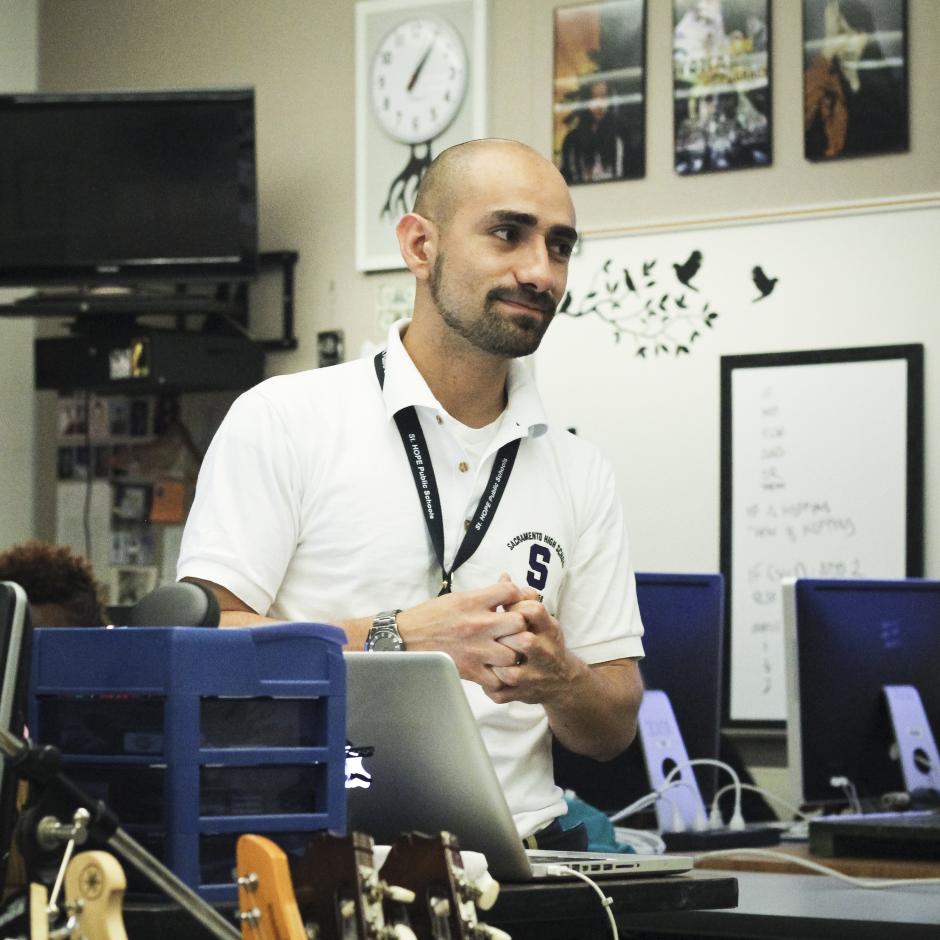 Here at St. HOPE we find it very rewarding to recognize the outstanding commitment from our staff, which more than often go above and beyond to give scholars an unforgettable learning experience. With amazing staff like Mr. Sarabia, Sac High's Visual Arts and Communications teacher, there's no wonder why we have such amazing scholars.
This month we had the privilege of sitting down with veteran HOPEster, Mr. Sarabia, to hear a little about his story. Here's what we captured:
Q: How long have you been here? How did you hear about St. HOPE?
A: 14 years. I was dancing with a Ballet Folklorico company and the teacher was a counselor at Sac High. She told me that the computer graphics teacher at the time was retiring and that the position needed to be filled. When I first heard about it, I thought, oh no, I do not want to work with high school kids! But I tried as a substitute for a semester in the Fall of 2004 and stayed for years. It's a great place. Being able to work with students in this job has helped me grow.
Q: Tell us a little about yourself, family, and education. How did you get started in Computer Graphics?
A: I studied literature in college. I didn't qualify for financial aid so I got through college doing freelance graphic design. I took a computer graphics class in high school that started it all. I had my own business after high school that paid my way through college. I had a pretty rough time in high school, but I had good mentors and a strong family so I was very lucky.
Q: What do you love most about coming to work/teaching?
A: Kids. Students are very inspiring, cool. I love interacting with them and sparking their curiosity. I don't think school should be about memorizing, high test scores, and grades, not as much as I think it should be about developing the mind to think in critical ways. Kids should know how to think on their own and problem solve. I love reading, writing, and language and those skills along with knowledge of graphic design, come into play when engaging students in critical ways.
Q: Your classroom is very unique. Far from the average room! What would you want someone to know about your class?
A: You have to come see the space. When you come into my class you walk in and feel something special. I've developed this space to give students access to things they may not normally be exposed to. I have guitars, pianos, drums, whatever, for students to pick up and play if they want because I'm not concerned if they break. When things break in my class, we take it apart to see what it's made of. We have a music studio here, it is accessible to students. One of my older students came and recorded a drum solo last week. It's amazing what we have here. This is their classroom, and the items are their things. I want them to be inspired, especially with all the great things there are to explore. But I teach them to take care of their things and respect their space.
Q: What are you currently working on in your classes?
A: My older, advanced classes are working on 3D animations, like Pixar stuff. They are currently designing their own business cards, logos, and animations for their company.
To learn more about Mr. Sarabia's incredible endeavors with scholars and growing Visual Communications efforts at Sac High, check out Sac High's Visual Communications Pathway Hub. This site is created for, by and featuring Mr. Sarabia and dozens of Sac High scholars past and present!
Thank you, Mr. Sarabia, for your unique approach to growing our scholars and continued commitment every day!