Soccer Succeeds at PS7 Elementary School!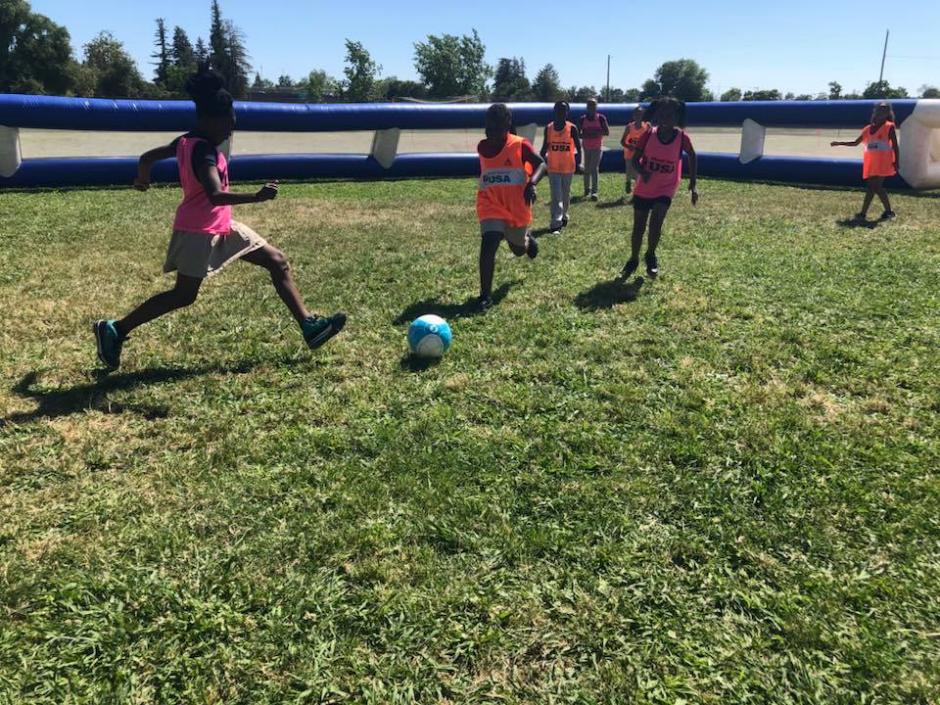 For the last two years, Street Soccer USA and PS7 Elementary School have partnered to provide 3rd – 5th grade scholars at PS7 access to after school soccer as an enrichment program multiple days per week. The partnership is funded by Councilmember Jay Schenirer's Way Up Sacramento initiative to provide more healthy activities for Oak Park youth, and because soccer was a sport they wanted to pilot.
With the rising costs of playing soccer in leagues and clubs dominating the local soccer fields, soccer has become very inaccessible for lower income families and we have seen little to no soccer being played in Oak Park. We wondered if this was a result of the kids and families having a lack of interest in the sport or if it was an accessibility issue. There are very few low barrier soccer programs in the Oak Park community and even fewer that are totally free to kids. Street Soccer USA is a national non-profit whose mission is to improve the accessibility to soccer and to use the power of the game to help people of all ages and backgrounds discover their strengths and to take positive steps forward in their lives.
Across the world countries and cultures play the game of soccer and have the opportunity to use the beautiful game as a way to learn how to be a part of a team/community and work with others who may be different, develop positive self-esteem, confidence, resiliency, and enhance problem solving skills and a growth mindset. Over the last two years we have seen the positive impact firsthand with PS7 scholars who for many, this is their first experience with the game. We have seen fitness levels improve, ability to work in a team, improved peer to peer relationships, improved soccer skills and their mindset around pushing through when they are challenged.
As a result of the positive outcomes we've seen from our student athletes at PS7 and other neighborhood programs, Street Soccer USA was recently named Non-Profit of the Year by Senator Dr. Richard Pan. Last school year over 150 youth attending schools in Oak Park signed up for our free soccer programs resulting in a total of 830 attendances. Thanks to a new grant received from the City of Sacramento, we will be able to increase our presence at PS7 and offer both fall and spring seasons. We couldn't be more thrilled about the opportunity to give 'more time' to such a promising group of scholars.
We are so proud to partner with PS7 Elementary. Providing scholars access to skills and self-discovery is in great alignment with our goals as an organization. Being able to impact and improve their overall health and providing outside of the box programs to improve the overall learning experience embodies an ideal partner for us and we are excited to expand as we move into the 2018-2019 school year.