Oak Park Speaker Series Conclusion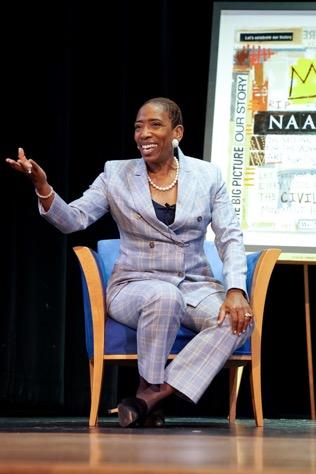 The inaugural Oak Park Speaker Series presented by Underground Books and the Greater Sacramento Urban League concluded with two amazing events at the Guild Theater.
With all proceeds going to support Underground Books, the four-part African American speaker series took place at 40 Acres this summer. Hundreds of people attended the events that focused on education, politics, education and wealth management. Each of the featured speakers are well connected and recognized in the African American community, and included: news commentators Roland Martin and Byron Pitts; award-winning author Terry McMillan; and, financial analyst Carla Harris.
Hundreds of people filled the theater to hear from best-selling author Terry McMillan, who has written several novels including "Waiting to Exhale" and "How Stella Got Her Groove Back", both of which were later made into popular movies. Following a fireside chat conversation with former Mayor Kevin Johnson, which gave a glimpse into her personal side, Terry read excerpts from a new novel she's currently working on and hopes to release in the near future. Following the event, fans lined the street for an opportunity to meet their favorite author who signed books inside Underground Books.
The final event was an amazing treat with guest speaker Carla Harris. The Wall Street financial broker and Vice President at Morgan Stanley discussed a variety of topics ranging from success in the workplace to personal growth and wealth. Attendees left feeling inspired and purchased all available books that were later personally signed by Ms. Harris.
To view photos and videos from all the Oak Park Speaker Series events, visit the Oak Park Series Event website.