Oak Park Speaker Series with Resmaa Menakem
Underground Books / Guild Theater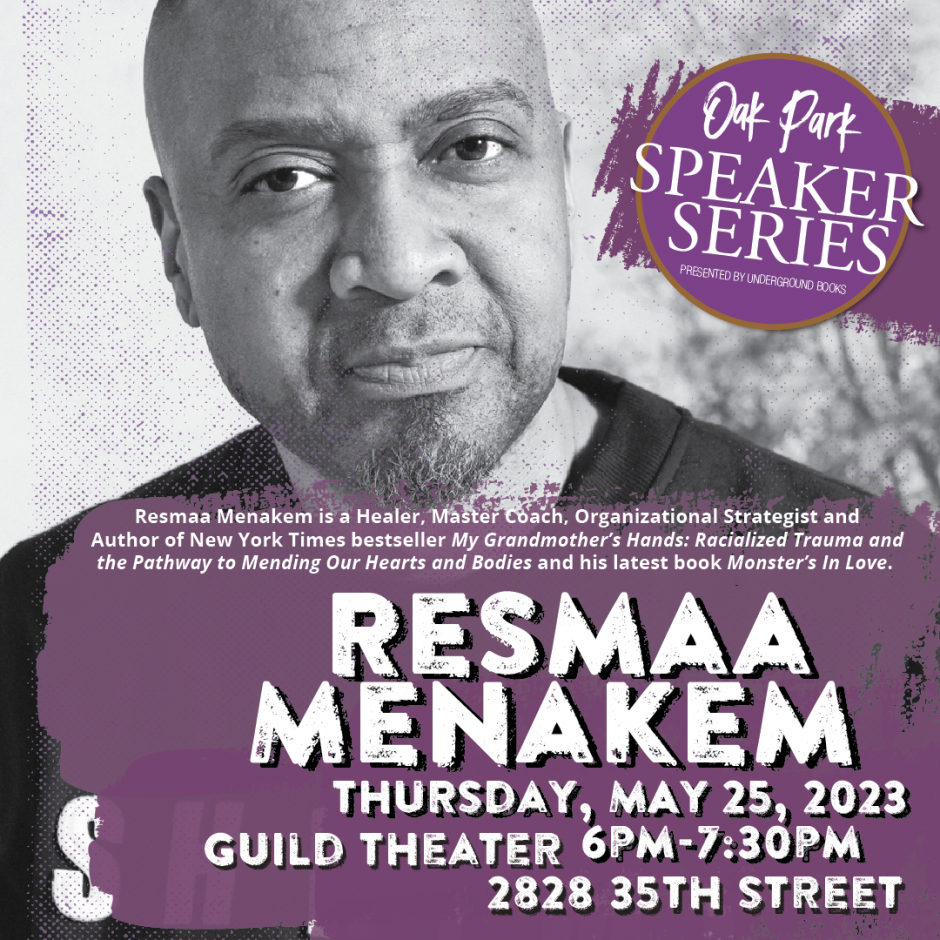 The Oak Park Speaker Series welcomes the return of New York Times Best Selling Author Resmaa Menakem to discuss his latest novel Monster's in Love.
ABOUT THIS EVENT
The Oak Park Speaker Series is a monthly fireside chat featuring Black thought leaders and influencers from around the country. In recognition of Black History Month, the February 2023 Oak Park Speaker Series event will feature Ibram X. Kendi and Nic Stone, co-authors of How to Be a (Young) Antiracist. The book is a dynamic reframing of the concepts shared in Kendi's ground-breaking How to Be an Antiracist, with young adulthood front and center. Aimed at readers 12 and up, and co-authored by award-winning children's book author Nic Stone, How to Be a (Young) Antiracist  empowers teen readers to help create a more just society. Kendi and Stone have revised this work to provide anecdotes and data that speaks directly to the experiences and concerns of younger readers, encouraging them to think critically and build a more equitable world in doing so. Antiracism is a journey–and now young adults will have a map to carve their own path.
****
ABOUT THE AUTHOR: 
Resmaa Menakem coaches leaders and people to rise through suffering's edge. His work focuses on making the invisible, embodied and visible.
Resmaa is a healer, a longtime therapist, and a licensed clinical social worker who specializes in the healing of racialized trauma. He is also the founder of the Cultural Somatics Institute, a cultural trauma navigator, and a communal provocateur and coach.
Resmaa is best known as the author of the New York Times bestseller My Grandmother's Hands: Racialized Trauma and the Pathway to Mending Our Hearts and Bodies, and as the originator and key advocate of Somatic Abolitionism, an embodied antiracist practice of living and culture building.
For ten years, Resmaa cohosted a radio show with former U.S. Congressman Keith Ellison on KMOJ-FM in Minneapolis. He also hosted his own show, "Resmaa in the Morning," on KMOJ. Resmaa has appeared on both The Oprah Winfrey Show and Dr. Phil as an expert on family dynamics, couples in conflict, and domestic violence. He has also been a guest on Charlamagne Tha God's Comedy Central TV program, Tha God's Honest Truth, and on iHeart radio's The Breakfast Club with DJ Envy.
Resmaa has served as the director of counseling services for Tubman Family Alliance, a domestic violence treatment center in Minneapolis; the behavioral health director for African American Family Services in Minneapolis; a domestic violence counselor for Wilder Foundation; a divorce and family mediator; a social worker for Minneapolis Public Schools; a youth counselor; a community organizer; and a marketing strategist.
From 2011 to 2013, Resmaa was a community care counselor for civilian contractors in Afghanistan, managing the wellness and counseling services on 53 U.S. military bases. As a certified Military Family Life Consultant, he also worked with members of the military and their families on issues related to family living, deployment, and returning home.
You can learn more about Resmaa and his work at his website, www.resmaa.com.
****
EVENT SCHEDULE:
5:00 PM – VIP early access
5:30 PM – Doors open
6:00 PM – Program begins
7:00 PM – VIP Reception
By attending this event you grant the event organizers full rights to use the images resulting from the photography/video filming, and any reproductions or adaptions of the images for social media, press releases, and fundraising opportunities.