Not a genuine Black Man: Longest Running Solo Show in San Francisco History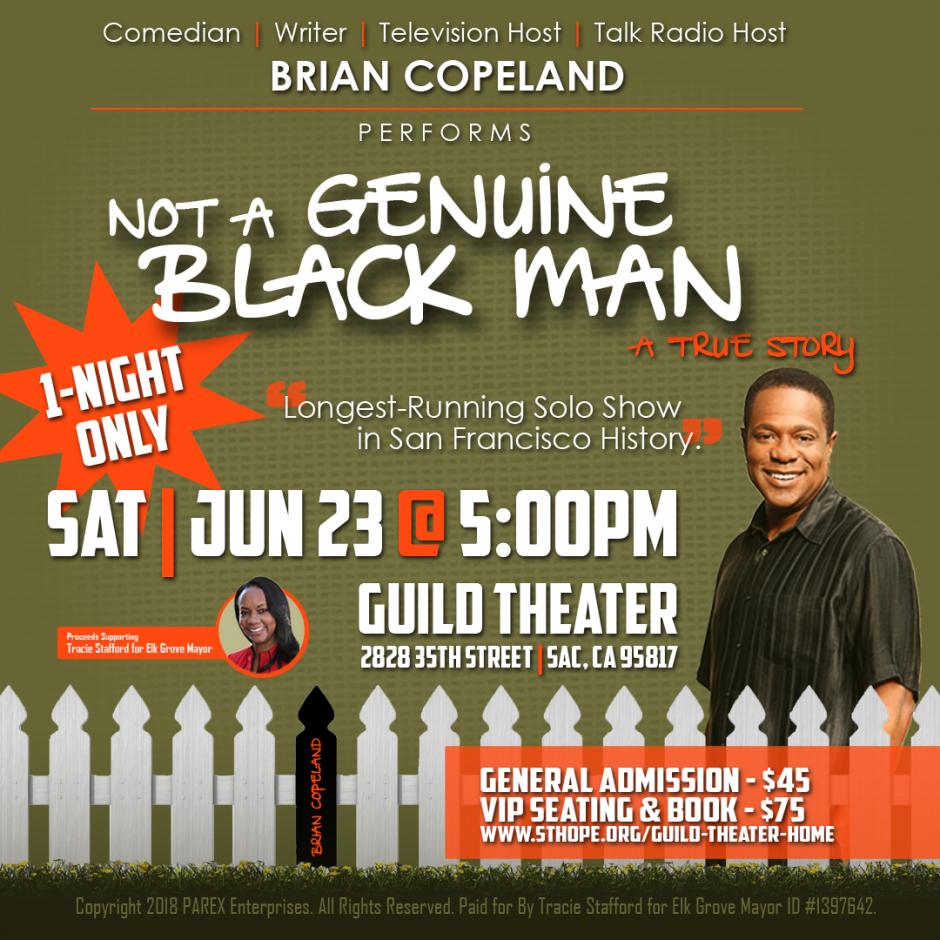 Brian Copeland (award-winning actor, comedian, author, playwright, television and radio talk show host) debuted Not a Genuine Black Man (Genuine) in 2004. The play explores his childhood experiences as a member of one of the only African American families in the suburb of San Leandro, California. This tale of laughter, tears, and sociology went on to become the longest-running solo show in San Francisco theatrical history with over 800 performances. The play has since been performed in over 30 cities, including a critically acclaimed run Off-Broadway and is currently in television series development. In addition, Copeland published a best-selling book based on Genuine that is now required reading in several high schools and colleges across the country.
This one man play offers a candid and funny response to those who question the racial authenticity of successful black men. After receiving a letter asserting that he is "not a genuine black man," Copeland (comic, actor, radio, talk show host) tries to understand the qualifications needed to earn the classification: "I can't swim. That's black. But I can't play basketball either."
With agility, Copeland plays over 20 characters in the two-hour show including himself, himself as an 8-year-old, his mother, his sister, his grandmother, his son, his father, his landlord, 3 policemen, 2 lawyers, his father, a waitress, a pastor of an all-white church, a hate-letter writer, two white teenaged racists and several irate neighbors. He also fragments the narrative in time, flashing back and forth between his childhood and his current status as a successful performer, family man and business man. And he keeps it all together for the audience.
Join us for this special Sacramento performance in support of Brian's Sister, Tracie Stafford who is vying for the office of Elk Grove Mayor. The show will be followed by a brief Q & A and book signing. VIP tickets include special seating and book.