Insecure Season Finale
Screening at the Guild Theater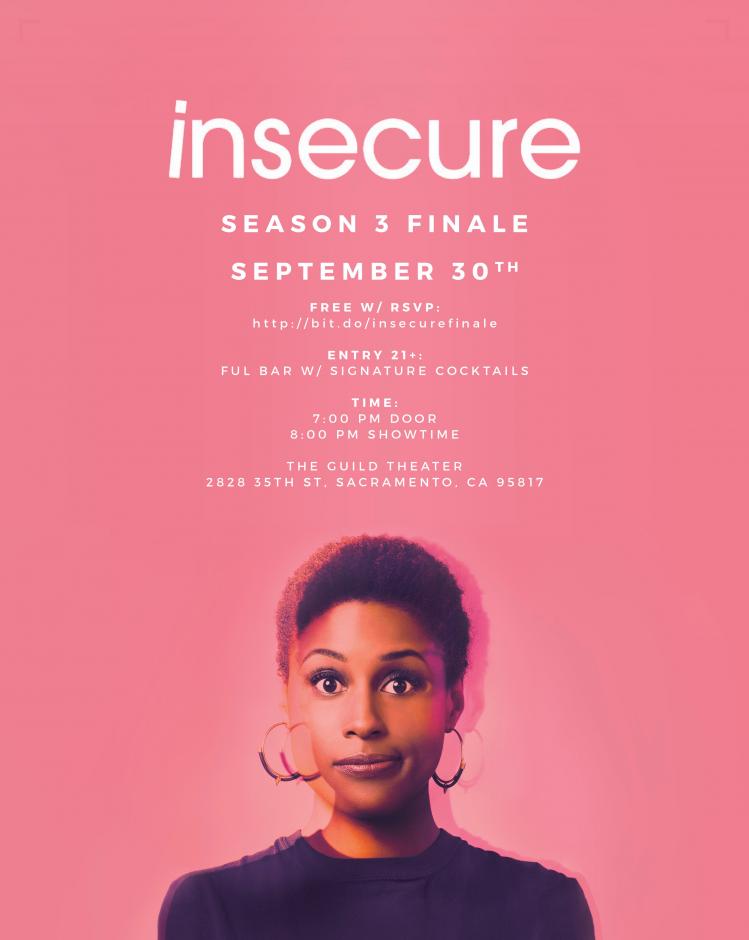 DESCRIPTION
Come watch the season finale of Insecure at the historic Guild Theater! RSVP for FREE entry!
****
Creator Issa Rae (The Misadventures of Awkward Black Girl) stars as Issa Dee, who struggles to navigate the tricky professional and personal terrain of Los Angeles along with her best friend Molly (Yvonne Orji).
****
Nominated for 2 Emmys in 2018
OUTSTANDING LEAD ACTRESS IN A COMEDY SERIES: ISSA RAE
OUTSTANDING CINEMATOGRAPHY FOR A SINGLE-CAMERA SERIES (HALF-HOUR)
****
Entry:
21+
Time:
7:00 PM Door
8:00 PM Showtime
Full Bar and Concession Snacks!
****
Contact:
Kristen C.
916.905.7024
Click here for more information and to reserve your free tickets
INSECURE About:
Modern-day black women might be described as strong and confident; in other words, just the opposite of Issa and Molly. As the best friends deal with their own real-life flaws, their insecurities come to the fore as together they cope with an endless series of uncomfortable everyday experiences. Created by co-star Issa Rae and writer/comic Larry Wilmore ("The Daily Show With Jon Stewart"), the comedy series looks at the friendship of two black women in a unique, authentic way. It features the music of both indie and established artists of color, and touches on a variety of social and racial issues that relate to the contemporary black experience.
****
About the Guild Theater
Est. 1915
The Guild Theater is a nonprofit theater managed by St. HOPE Academy, a nonprofit community development corporation whose mission is to revitalize inner-city communities through public education and economic development. Established in 1989 by NBA All-Star and Oak Park native Kevin Johnson, St. HOPE educates, trains and empowers citizens to change the landscaped of low-income areas, beginning with the Oak Park neighborhood in Sacramento, California.
The Guild Theater is the only remaining theater of the numerous early 20th century motion picture houses for which Oak Park was once known. Designed and financed by Joseph Lewis and completed in 1915, it was the largest of three theaters on 35th Street in Oak Park at that time. Originally called the Victor Theater, the building's structure reflected the influence of the Moorish Revival on theaters of that era.
For many decades, the Guild Theater was a premier entertainment destination and in its earliest days played host to vaudeville shows. The theater eventually fell into a state of disrepair and remained vacant for many years. St. HOPE has updated and restored the Guild Theater in 2003 and currently showcases film, lectures and live performances.
The Guild Theater has been restored and renovated, but maintains its historic charm and is a perfect venue for corporate events, plays, concerts, trainings, movie screenings, weddings and more.
The venue has an open front lobby area with both a ticket counter and concession stand. The 200-seat theater has exposed brick interior walls showcasing contemporary art.
****
Location:
The GUILD Theater
2828 35th St, Sacramento, CA 95817