Howard Hewett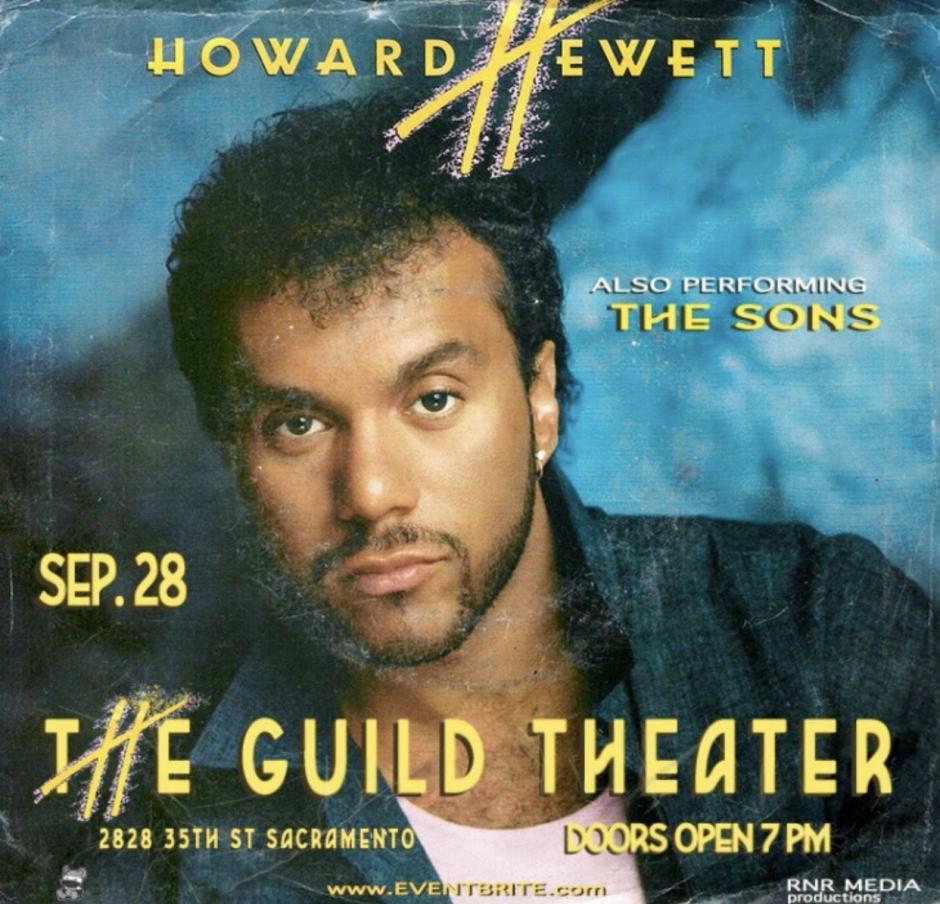 Come join us at The Guild Theater to watch Howard Hewett, an American singer-songwriter. Hewett is the former lead vocalist of the Grammy winning R&B/soul vocal group Shalamar.
****
Entry:
21+
Time:
7:00 PM Door
8:00 PM Showtime
****
****
HOWARD HEWETT (BI0):
Howard Hewett is one of the most gifted vocalists in the Post-Marvin Gaye era of pop R&B.
He started singing as a child, fronting his older sisters in The Hewett Singers. The group toured the gospel circuit. As a teen, Hewett sharpened his crooner skills in a funk band called Lyfe. In 1976, Hewett moved to Los Angeles and formed a group put together by the owners of the historic Maverick's Flat, called Beverly Hills.
​Hewett got his mainstream break as the male vocal lead in Shalamar, a centerpiece of Dick Griffey's SOLAR (Sound of Los Angeles Records) label. His tenor voice mixed beautifully with the bright vocals of Jody Watley, the dancing skills of Jeffery Daniels and the writing and production of Leon Sylvers III. The group gave the world feel-good dance favorites The Second Time Around and A Night to Remember, the baby-making classic For the Lover in You, as well as a number of beautiful B-side ballads like You Can Count On Me and Somewhere There's a Love. When Watley and Daniels left the group in 1983, Hewett continued to lead Mickey Free and Delisa Davis in the reconstituted Shalamar. This version of the group was best known for soundtrack contributions on Footloose and Beverly Hills Cop with Dancing in the Sheets and the Grammy-winning Don't Get Stopped in Beverly Hills, respectively.
​In the mid-eighties, Howard sets out on his solo career, releasing I Commit to Love in 1986 on Elektra and from the first single Hewett made magic, giving his amorous voice and whimsical lyrics to Stay, I'm For Real and the title track. Most beloved track on this freshman release would be his spiritually grounded Say Amen. This single soared on the Inspirational charts and has enjoyed the status of a modern gospel classic.
​Subsequent projects have solidified Hewett's place in the high ranks of R&B balladeers by writing and collaborating and lending his voice within an intimate group of crooners, including George Duke, Quincy Jones, James Ingram, Anita Baker, Prince and Stanley Clarke. With Elektra, he released Forever and Ever (1988- Once, Twice, Three Times), Howard Hewett (1990- Show Me) and Allegiance (1992- Can We Try Again).
​Later work shows increasing authenticity as Hewett rips song lyrics straight from his soul. It's Time (1994- This Love is Forever), written and produced almost exclusively with long time friend and collaborator Monte Seward, displays all the vulnerability involved in falling and staying in love. In 2001, Hewett released the all inspirational album The Journey, where he shows us that his faith can't be separated from his heart and soul.
​Hewett continues to seduce audiences and eardrums as he is constantly touring and intermittently releasing new music.
****
About the Guild Theater
Est. 1915
The Guild Theater is a nonprofit theater managed by St. HOPE Academy, a nonprofit community development corporation whose mission is to revitalize inner-city communities through public education and economic development. Established in 1989 by NBA All-Star and Oak Park native Kevin Johnson, St. HOPE educates, trains and empowers citizens to change the landscaped of low-income areas, beginning with the Oak Park neighborhood in Sacramento, California.
The Guild Theater is the only remaining theater of the numerous early 20th century motion picture houses for which Oak Park was once known. Designed and financed by Joseph Lewis and completed in 1915, it was the largest of three theaters on 35th Street in Oak Park at that time. Originally called the Victor Theater, the building's structure reflected the influence of the Moorish Revival on theaters of that era.
For many decades, the Guild Theater was a premier entertainment destination and in its earliest days played host to vaudeville shows. The theater eventually fell into a state of disrepair and remained vacant for many years. St. HOPE has updated and restored the Guild Theater in 2003 and currently showcases film, lectures and live performances.
The Guild Theater has been restored and renovated, but maintains its historic charm and is a perfect venue for corporate events, plays, concerts, trainings, movie screenings, weddings and more.
The venue has an open front lobby area with both a ticket counter and concession stand. The 200-seat theater has exposed brick interior walls showcasing contemporary art.
****
Location:
The GUILD Theater
2828 35th St, Sacramento, CA 95817