Halloween Spirit Day
Sac High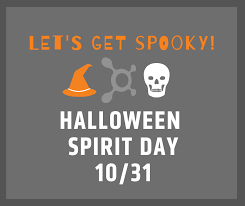 For Halloween this year, Sac High is having a Spirit Day!
We are going to dress in orange and black to get into the Halloween Spirit!
Spirit Day Requirements:
Clothing must be free of rips and/or holes, may not be too tight or too loose, and must not exceed one inch above the knee. Shirt straps must be at lest two inches wide. No jeans unless they are black or orange. All clothing and shoes must either be black or orange, or in a dress code.
No red of blue.