That Girl Lay Lay
Guild Theater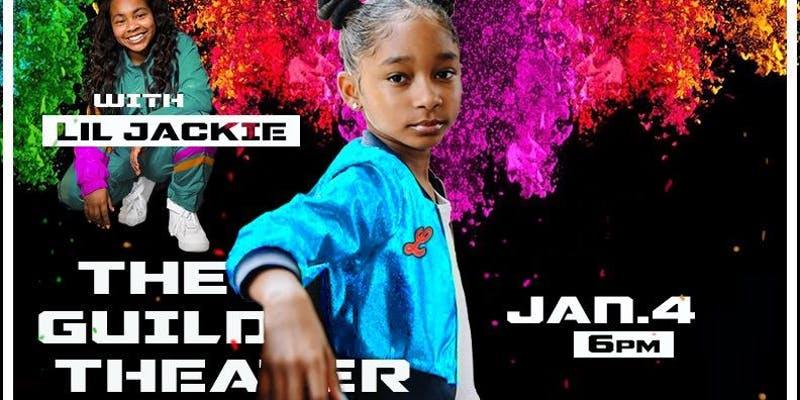 That Girl Lay Lay is coming to Sac!
About this Event
Come join us at The Guild Theater to watch That Girl Lay Lay, an 11 year old American rapper. Lay Lay is the youngest female rapper to sign a record deal with Empire!
****
****
Entry:
ALL AGES
Time:
6:00 PM Door
7:00 PM Showtime
****
That Girl Lay Lay (BI0):
"That Girl Lay Lay" is the online pseudonym of Alaya High, an American 'Instagram' personality-turned-freestyle artist. She took the internet by storm with her freestyle videos, which she usually shoots while sitting on the passenger seat of her father's car. Lay Lay started her journey with 'Instagram' and then earned impressive fame across her social-media channels. The multi-talented child prodigy has gathered inspiration from her father, who is quite a well-known personality in the music industry. She has been composing, producing, rapping, and singing since the tender age of 5. Thus, she acquired fame in her early teens and even bagged a contract from a premier music label, making her the youngest-ever female rapper to sign to a music label. Additionally, she released her debut album in 2018. She has also appeared on 'The Ellen DeGeneres Show.' Lay Lay's freestyle raps have been able to impress celebrities such as 50 cent, Quavo, Le' veon Bell, Mindy Kaling, and T.I. With so many achievements at such a tender age, Lay Lay is all set to become a household name, not only as a hip-hop artist but as a complete entertainer.
Lay Lay began earning public attention in 2017, when she started posting on her 'Instagram' page. The page currently has over 790 thousand followers. She had already earned significant fame because of her music clips on the platform. Within a year, Lay Lay gained a marked fan base due to her talent. She shot to fame after her freestyle performance on the song 'Shoot,' originally sung by BlocBoy JB, went viral. Lay Lay became an overnight sensation and perhaps one of the youngest freestyle celebrities. Her social-media fame helped her earn a contract with 'Empire Records,' making her the youngest artist to be signed by a label, leaving behind the rap duo 'Kriss Kross' (Its members, Chris "Mac Daddy" Kelly and Chris "Daddy Mac" Smith, were 13 and 14, respectively, when 'Ruffhouse Records' had signed them). Lay Lay shared the news with her fans on August 2, 2018, through an 'Instagram' post. Later, she released her first album, 'Tha Cheat Code,' under the label 'Empire,' along with her debut single, 'Go Lay Lay Go.' She had previously released a freestyle performance on Drake's 'I'm Upset.'
Lay Lay's popularity reached a different level altogether in the following years, when she made an appearance on 'The Ellen DeGeneres Show' for a live performance. During the performance, Lay Lay was seen mimicking the styles of a few contemporary rappers. However, she had already performed on the stage with a warm up freestyle performance much before her primary performance. Lay Lay also delivered a freestyle performance in front of the audience and instructed them to clap.
Lay Lay owns a self-titled 'YouTube' channel, where she posts her music videos. She created the channel on May 28, 2018. She has acquired around 490 thousand subscribers on the platform to date. Some of the most popular videos on the channel are 'OLD TOWN ROAD FREESTYLE,' 'MONEY IN CAR FREESTYLE ORIGINAL,' 'MONEY ROUND HERE FREESTYLE, 'That Girl Lay Lay – Mama (Official Video),' and 'THOTIANA FREESTYLE PART 2.' The first part of 'THOTIANA FREESTYLE' has earned more than six million views to date, the highest on the channel. Lay Lay owns a website where her signature collection of lip gloss is available for sale. The lip gloss range, named 'Lyrics,' comes in an attractive microphone-shaped metallic packaging and a variety of flavors.
Lay Lay was born on January 28, 2007, in Houston, Texas. She later moved to Atlanta, Georgia, to make her career. However, she has always recognized Houston as her hometown and a place close to her heart. Her father, Acie High, has not just inspired her to become a singer but has also motivated her to turn vegan. Acie has been following a vegan diet for several years now, and Lay Lay is following in his footsteps. On 'The Ellen DeGeneres Show,' Lay Lay listed celebrities such as 'Migos,' Cardi B, Lil Baby, Gunna, and Rihanna as her favorite music artists and sources of inspiration.
****