Dream It Believe It Achieve It Talent Showcase
Guild Theater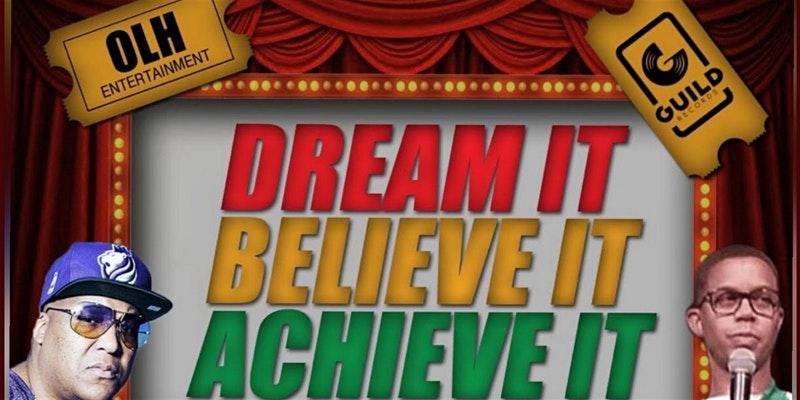 The Guild Theater Presents Live from the 35 , "Dream It, Believe It, Achieve It" Talent Showcase this is a 18 & over event
About this Event
The Guild Theater/OLHENT. Live from the 35 present (Dream It, Believe It, Achieve It Talent ) showcase is a showcase to find the Next Artist or band of all Genres Hip-Hop,Rock,R&B, Country ETC . . . Please join us MLK Weekend, Saturday January 18th, 2020 at The Guild Theater for the, "Dream It, Believe It, Achieve It" Talent Showcase. Our showcase will allow the first 20 artist/bands of all genres of music to enter the showcase to broadcast their talent for an opportunity to win a grand prize of $500!!! and 20 hours of studio time!!! At our New Guild35 Studio located in the Guild Theater!
Talent Signup Details :
1. $25.00 Artist Registration Fee click on tickets to Register
2. Must be at sound Check at 3pm Jan. 18th
3. Artist Must have Flash Drive ready to go
4. Bands must have their own equipment
5. Songs no longer then 5min.
Hosted By: Comedian Dru Burks & Big Omeezy
****
Time:
6:00PM Door
7:00PM Showtime
****
****
Info:
Comedian Dru Burks (Host): A comedian born and raised in Sacramento, CA. He has been in the comedy game since 2013, and worked with the likes of Paul Mooney, Pierre, Scruncho, Mark Curry and many more! He now host His Own comedy shows at the Guild Theater called Comedy Night at the Guild Theater
Rapper Entertainer (Host) : Big Omeezy Short Bio OLH Entertainment/ SickWidIt Recording Rap Artist Big Omeezy is from Northern California, Born in East Oakland Ca. He's been putting it down for quite some time, Rather it be Performing on Stage a long side Mentor Legendary Artist E-40, it's Putting down a slew of his own (7) solo Albums.. He raps about overcoming obstacles, continuing the legacy, an making his own mark on the pathway to Success.. His Latest Album #Evolution is Out Now, follow @BigOmeezy to find out what journey he'll take us on next…
****
5 Celebrity Judges TBA
About the Guild Theater