Comedy Night at the Guild Theater
Featuring Clayton Thomas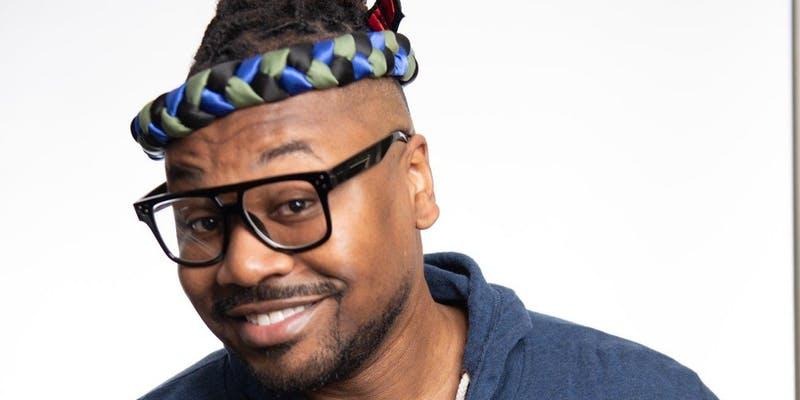 Comedy Night at the Guild Theater is a 21 and over event This Months Headliner is Clayton Thomas
About this Event
Comedy Night At The Guild Theater
Hosted By: Comedian Dru Burks
****
Time:
7:00PM Door
8:00PM Showtime
****
Comedian Info:
Feature Comedian : Jay Rich out of Oakland Ca quickly rising from local to Global. Traveling the country killing stages from night clubs to colleges and The $10,000 Tommy T comedy comp winner.
Feature Comedian : Melvin Jr a Bay Area native started his comedy journey 9 years ago at a local bar that produced weekly comedy shows called 821 Lounge in Hayward CA. 821 featured big named headliners that had appeared on Def Comedy Jam, Comic view , and P. Diddy's Bad Boys of Comedy such as Arvin Mitchell, Tommy Chunn, and D'Lai. Since then Melvin has moved up to bigger venues and cities including The Comedy Store on Sunset, San Jose Improv, Cobbs Comedy club, and Tommy T's . Tommy T's being Melvin's home club he's had the opportunity to open for Arnez J, Bruce Bruce, Guy Torry, and Cocoa Brown. Melvin's brand of Comedy is a blend of family, his perception of people, and crazy past relationship.
(Headliner): Clayton Thomas ("CT" for short) is known for turning a a comedy show upside down. When he gets on stage, he has one goal, ROCK THE ROOM!! He's a 14 year comedy veteran winning over audiences world wide. It doesn't just stop at stand up, though, as he conquers the TV screen as well. CT has served as writer and actor on Bounce TV's hit sitcom FAMILY TIME for 5 seasons. And has appeared on MODERN FAMILY, SUPERIOR DONUTS, INSECURE, UNCLE BUCK, and was the premiere comedian on the new season of HBO's ALL DEF COMEDY! In the talk radio world, Mr. Thomas hosted his own weekly show on Playboy Radio entitled "Clayton Thomas Against the World", and co-hosted "Speedy's Comedy Corner" on Foxxhole Radio for Sirius-XM. He's ghost written for some of the biggest names in comedy. And is currently on the road with Martin Lawrence. In his spare time Clayton writes, produces, and stars in hilarious comedy sketches for Instagram, where he has over 245,000 followers, YouTube & Facebook, where he has tens of thousands of subscribers. (Proclaimed the "King of Detroit" for always representing his city no matter where go goes, it doesn't matter if he's performing on stage, writing jokes for himself and others, acting on set, or hosting on air live, CT is well on his way to proving that he's one of the best in the business past or present.
Comedian Dru Burks (Host): A comedian born and raised in Sacramento, CA. He has been in the comedy game since 2013, and worked with the likes of Paul Mooney, Pierre, Scruncho, Mark Curry and many more! He now host His Own comedy shows at the Guild Theater called Comedy Night at the Guild Theater
****
About the Guild Theater
Est. 1915
The Guild Theater is a nonprofit theater managed by St. HOPE Academy, a nonprofit community development corporation whose mission is to revitalize inner-city communities through public education and economic development. Established in 1989 by NBA All-Star and Oak Park native Kevin Johnson, St. HOPE educates, trains and empowers citizens to change the landscaped of low-income areas, beginning with the Oak Park neighborhood in Sacramento, California.
The Guild Theater is the only remaining theater of the numerous early 20th century motion picture houses for which Oak Park was once known. Designed and financed by Joseph Lewis and completed in 1915, it was the largest of three theaters on 35th Street in Oak Park at that time. Originally called the Victor Theater, the building's structure reflected the influence of the Moorish Revival on theaters of that era.
For many decades, the Guild Theater was a premier entertainment destination and in its earliest days played host to vaudeville shows. The theater eventually fell into a state of disrepair and remained vacant for many years. St. HOPE has updated and restored the Guild Theater in 2003 and currently showcases film, lectures and live performances.
The Guild Theater has been restored and renovated, but maintains its historic charm and is a perfect venue for corporate events, plays, concerts, training, movie screenings, weddings and more.
The venue has an open front lobby area with both a ticket counter and concession stand. The 200-seat theater has exposed brick interior walls showcasing contemporary art.
****
****
Location:
The GUILD Theater
2828 35th St, Sacramento, CA 95817