Catch These Vibes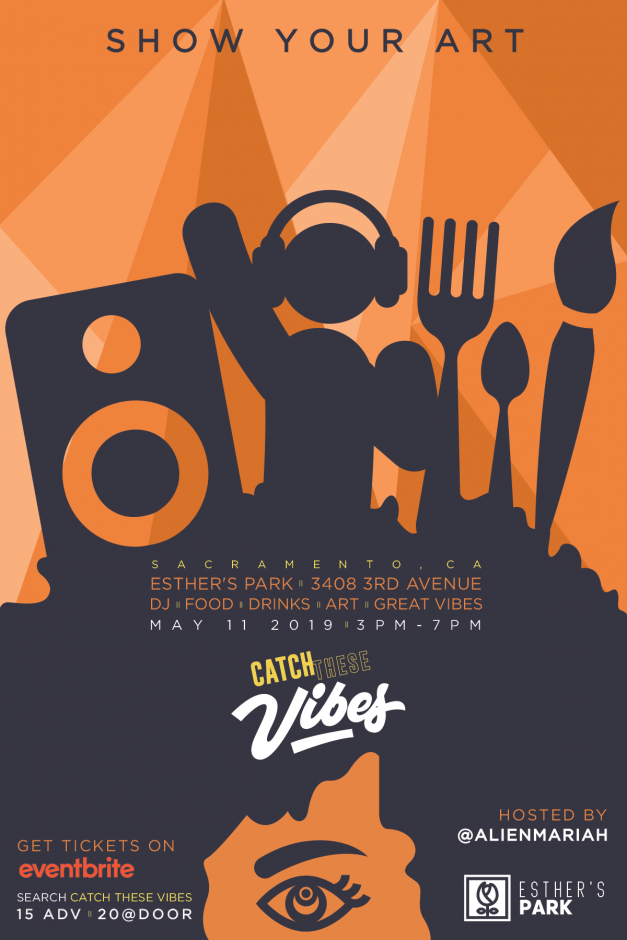 Description
Catch These Vibes
Come join us at Esther's Park for a fun filled day where artist showcase their work while vibing to music, socializing, and eating great food!
Catch These Vibes is an event to help gather different unique individuals together to network, showcase, and promote their own artwork/businesses while coming together as one unified vibration. Our goal is to bring together individuals to create a vibe where they can relax,create, and also network with local artists and businesses in the area. All ages are welcome, children welcome at parents discretion and must be supervised. We are creating a dope unified vibe to Oak Park as well as supporting local starting artists and vendors by giving them a platform to potentially sell their artwork,products, and promote this business.
Hosted By: Mariah Fields
****
Time:
3:00PM Door
****
Artsit/ Vendor Info:
Host : Mariah Fields
Aizik Brown
a Muralist from Sacramento, CA. Creating has always been my way of self expression, therapy, and great spiritual vibes. At a young age I was so fascinated by Graffiti Art, just by the way it was so free, risky, and also beautiful. Since it was the first exposure of art that I had, I immediately wanted to create my own. As I progressed in my art, I wanted to go to college to better my skills, techniques, and focus on painting. After attending Humboldt State University, I decided to move back home where I wanted to begin working on big scale public art around my hometown.
Once I got back from Humboldt, I was so confused on having a name or genre for the art I was creating. At the time I called it "Abstract Pop", but it just doesn't fit into what I do now. I absolutely hate titles and having to be stuck in one particular genre. I would definitely call my style abstract, but It has so many influences of graffiti, cartoons, graphics, and spiritual ancestral origin. My focus is creating more eye appealing, realistic, and spiritual works of art. Visually connecting my ancestry of being Mexican, Black, German, and Swedish. I wanted to express this by including nature, landscapes, human figures, cultures, music, and tribal patterns and design in my art. The main idea that I would like people take away from my art is to keep coming back to my pieces and finding more and more in them, relate it to the human experience of being multicultural, and to feel the energy of love, peace, and happiness within it. I am continuing to challenge myself when it comes to my art to go bigger in scale, adding more artistic skill and technique, and also being more creative. When creating my art I love to put on music and just let my hand flow. I do not go into my paintings having a thought out plan, message, or concept, I just go based off of however I am feeling at the moment to be expressed on the canvas, paper, or surface that I am creating on.
From 2016-2018, I have created over 40 murals in the state of California ranging from Sacramento, to Petaluma, Manteca, and more. I want to keep creating large scale murals in California, around the nation, and soon around the world. This year of 2019, I have been working with various schools from Rancho Cordova, Stockton, South Sacramento, and more. I love going to different communities to talk with them, and to provide them with beautiful works of art that will stay there for years and years to come. I also, love getting the students and the community involved to help with the mural so they get a sense of the mural being their own as well. I am looking forward to this year to create more art, get into shows and galleries, and also create more murals with schools and local businesses.
Tiny Fairy Creations:
Uniquely handcrafted and insightfully designed healing pendants, hand accessories, hair trinkets and custom creations. Providing a connection to the healing essence of crystals from Mother Earth through wearable art
Also offering extensive natal chart and Black Moon Lilith readings with sliding scale prices.
Instagram: @dabelina
Nat Freeman:
Nat Freeman is a local creative from South Sacramento, California.
He has been performing & writing poetry since the age of 12.
He currently has 3 independent produced poetry books and one mixtape.
If you'd like to view any of his work please visit www.natfreeman.com
Instagram: @thefreemannat
Dabs and Dialogue

Since 2017, Dabs and Dialogue has provided commercial, editorial, and portrait photography for the cannabis industry within the Greater Sacramento area. It is our mission to create innovative and thought provoking images and art that highlight the companies, products and people that define our community. Owned and operated by 2 sisters, it's more than a photography company, it's family.

Please let me know if you need anything else! Thank you again for all the love and support! I know event promo and coordinating is a thankless job so just know that we are super excited to be a part of the magic and very grateful for your work!
Brittany DeAnn
I am a multitalented visual artist living in northern California. I was raised in Iowa, in a big family, and was very young when I fell in love with art. In 2014 I sold all my stuff, and moved to Oakland to pursue an art career. I worked several jobs and spent all my free time painting. I was eventually contacted on social media to do a show in San Francisco which was a goal met and the real start of my career. My main focus is painting, but I enjoy doing many different art forms including, body painting/spfx makeup, photography, and digital drawing.
Her art speaks to my experiences living in a society bound by vices and lost in substance and cyber space. Vivid colors and graphic popart inspired imagery provoke a psuedo pychdelic sensation as they suck you into a debaugherous demension. Although each piece has personal meaning, I want viewers to get lost for a moment, in another world and create a narrative that relates to their realty.
Anthony Singleton
Aka (Bruhbruh916) aka (Versace)
Ohio Bred, Cali Fed Artist who's all about Family, Love, Fun, and Soul..
Elizabeth Salgado
I'm Ivana, a self taught creative from South Sacramento, and the hands behind Tiny Weaver. Currently I work with metals, glass, paints, words, and living art. I'm passionate about art in all mediums because it has always been a form of therapy and release. Im excited to participate in this upcoming show and share my latest creations! If you're interested in a custom piece or would like to see what work I have in progress follow me @TinyWeaver.
Mads Edel
Mads is an 18 year old non-binary creator from Sacramento, CA. They primarily specialize in alcohol-marker illustration and clay sculpting. They're an experimental musician who tries to visualize the way music makes them feel through their illustrations, through using different intensities of detail and color. They take inspiration from the pop art of the 80s as well as modern day psychedelia/surrealism illustrations.
Brianna Lozano
is a Sacramento based visionary artist (painter). Art has always been a part of her life since she received her first crayon and paint kit. She started taking on art classes throughout her childhood until college for 2 years. Since then she has been learning the aspects of business and entrepreneurship on her own with the help of other successful artists and business owners. Brianna works mostly with acrylic and oil paints. Her inspiration comes from dreams and thoughts she has had throughout her spiritual growth and journey. To find the visionary realm, we use the intuitive inner eye: the eye of the soul. She believes that all inspiring ideas originate there. Starting in January of this year 2019 Brianna has been involved inmany local community events displaying her art work.
MOOFASA
I am a multimedia multitalented artist born and raised in Sacramento but based in Long Beach, California. Each of my artworks is a philosophical debate on the issues revolving my community. My most recent works is a conversation on the mistreatment of black women. I welcome the conversation to all as it is imperative we have this talk from every perspective. The more educated we are of each other, the more human we become.
Urban Sunshine
Momtrepreneur/Inspirationalist
Mixed Medium Artist Extraordinaire
Hawaii/Oakland Vibes
@urbsunshine ig
@irkoriginals
@walkingtothestore