Book Signing with Myron J. Clifton "BLM-PD"
Underground Books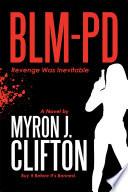 Join us as we welcome local author Myron J. Clifton to discuss his latest novel "BLM-PD: Revenge Was Inevitable"
WOMEN WILL LEAD THE REVOLUTION In the not too distant future, the US has been taken over by white nationalists, and the institutionalized racism that has underscored the country's entire history has once again been codified.
California has seceded from the US, and a band of strong women plan to start the next civil was following the brutal death of their friend at the hands of the police. This is BLM-PD GET TO KNOW THESE UNFORGETTABLE WOMEN: KJ: A tech genius tired of being passed over for less-qualified white men, she decides to lead a revolution by hacking her company's defense files.
What she finds leads her first towards revenge. Beast: AKA Jennifer, has it all: a good job, a hot bod, amazing hair, and a loving girlfriend. But she's angry. When her friend is murdered by a racist cop, she's ready to jump into a plot for vengeance. Queen: Dreadlocked and regal, Queen AKA Marilena, is as deadly with her MuyThai as she is with her Kukri knife.
"Provocative. Glaring. Brilliant!" – AP Like most African American men, Myron J. Clifton received "the talk" from his elders, instructing him on how to survive interactions with the police. He has heard the stories of police brutality, terror, and abuse of power from close family and friends. A prolific writer, Clifton was inspired by his experiences in the current American racial environment, and at this intersection of race, gender, a women, and interest in the intersection of race, gender, and politics, he has written this manuscript, his first novel; part one of the BLM-PD story.