Book Signing: "Happy Heart Advices" by Savanna Karmue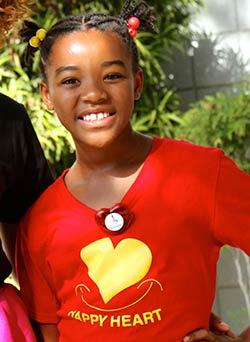 Tell us a little about yourself?
My name is Savanna Karmue, I am 9 years old and I am in the 5th grade at Phoebe Hearst Elementary School. My family and I moved to Sacramento about two years ago from Johnson City, TN. My desire to help people came by way of my interest for wanting to become a cardiologist. With this early interest, my mom and dad encouraged me to do some research about the heart. My passion for wanting to become a cardiologist grew even stronger while I came to discover that Heart Disease is the number one killer in America, and about 2,000 people die every day just because of heart related problems. I did not want to wait until I become a cardiologist before I could help people; I wanted to do something right away. With the help of my parents, I started Happy Heart Advices when I was 7 years old. The mission of Happy Heart Advices is to advise and encourage as many people as possible on how to keep a Happy Heart.
How are you making a difference in your community?
On February 14, 2014, I started Happy Heart Advices in order to start to educate and advice people about the heart health and to teach people about how to take care of the heart.
I figure the more people know about the heart, the more they will be able to take my advice about what to do to keep it healthy which will prevent them from getting heart disease. After creating my organization, I started conducting some research on different kinds of food and things that people are doing that have a negative impact on their heart. After learning and collecting the data, I decided to make Happy Heart Advices videos, recording my advice and educational tips about the heart on social media for families and children to engage, watch, and learn. I also decided to do some research on different kinds of snacks and candy that kids like to eat. My dad and I started to go door-to-door where I started to educate people about the heart and suggest healthier candy and snacks as a better option for dieting.
I recently decided to write my very first book volume for Happy Heart Advices with the hopes that my message for heart health will go even further. My hope is that the book will help bring awareness about the heart and how to take care of it to all people. I especially want many underprivileged people living in communities that don't often have access to information to make healthier choices for their dieting.
What accomplishment are you most proud of?
I am particularly proud that I was able to complete the first volume of my book, Happy Heart Advices. I gave up my entire summer, working every day and sometimes late in the night with my dad to meet crucial deadlines I set for myself to complete my book before I started school in the fall. I was so happy and proud that God gave me the strength to pull it through.
What is your struggle?
Because of the build-up of my busy lifestyle and everything I'm anxious to do, I sometimes miss some of the little things I see other kids doing. But the flip side is that I see this like an investment and an opportunity to do something really awesome and different from most of my peers.
If there is one problem in our community you wish you could fix, what would it be?
I taught all my kids that while I believe in them, they need to believe in themselves and to reach for the stars. I taught them to be honest, loving, trustworthy and giving people. My entire family has supported at-risk youth, from coaching to counseling to the professions they chose. Whenever someone in my family knows of a person or people in need, I know they will all come to the table and ask, "what can I do, what can I give". It doesn't get much better than that.
If there is one problem in our community that you wish you could fix, what would it be?
If I could make it easy for underprivileged communities to have access to affordable, healthy food instead of all the fast food places, that would be a good accomplishment.
How do you decompress?
Getting into a good book and reading my heart away! Spending time with my family, playing golf or going to some kind of family fun place is also fun.