Authors Uncovered: Maceo Montoya (Latino Heritage 2021)
Underground Books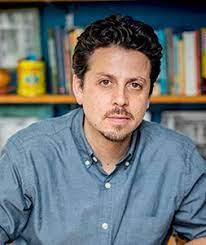 Underground Books is pleased to partner with the Sacramento Public Library as the lead bookseller for a special Latino Heritage Month event featuring Maceo Montoya.
Event Details
Authors Uncovered is proud to welcome California-based author, artist, and educator Maceo Montoya. Moderated by Xico Gonzalez, a Sacramento-Based Artist, Educator, and Social Justice Advocate.
His first novel, The Scoundrel and the Optimist (Bilingual Review, 2010), was awarded the 2011 International Latino Book Award for "Best First Book" and Latino Stories named him one of its "Top Ten New Latino Writers to Watch." In 2014, University of New Mexico Press published his second novel, The Deportation of Wopper Barraza, and Copilot Press published Letters to the Poet from His Brother, a hybrid book combining images, prose poems, and essays. Montoya's third work of fiction, You Must Fight Them: A Novella and Stories (University of New Mexico Press, 2015) was a finalist for Foreword Review's INDIEFAB Book of the Year Award. Montoya is also the author and illustrator of Chicano Movement for Beginners, a work of graphic nonfiction. His most recent novel is Preparatory Notes for Future Masterpieces (University of Nevada Press, 2021).
In the visual arts, Montoya's paintings, drawings, and prints have been featured in exhibitions and publications throughout the country as well as internationally. He has collaborated with other writers on visual-textual projects, including David Montejano's Sancho's Journal (University of Texas Press, 2012), an ethnography of the Brown Berets in San Antonio, Laurie Ann Guerrero's A Crown for Gumecindo (Aztlán Libre Press, 2015), and Arturo Mantecon's translation of Mexican poet Mario Santiago Papasquiaro's Poetry Comes Out of My Mouth (Dialogos Books, 2018). In 2021, Red Hen Press published American Quasar, a collaboration with Fresno poet David Campos featuring 19 of Montoya's monoprints.
Montoya grew up in Elmira, California. He comes from a family of artists, including his father Malaquias Montoya, a renowned artist, activist, and educator, and his late brother, the poet Andrés Montoya. Maceo graduated from Yale University in 2002 and received his Master of Fine Arts in visual art from Columbia University in 2006. He is currently an associate professor in the Chicana/o Studies Department at UC Davis where he teaches courses on Chicanx culture and literature.