Artist Talk with Dr. Monica Crooks
Underground Books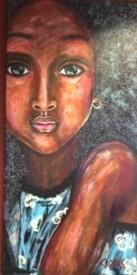 Don't miss Art Talk with Dr. Monica Crooks as she discusses her latest exhibit.
Local artist Dr. Monica Crooks, presents her encore exhibit at underground books. Focusing on the human face and body, this selection of new paintings provides an eclectic view of African-American beauty.

The works include art from previous gallery exhibits including "African Diaspora", "It's Reigning Men" and the "Angel Hair Collection." This promises to be a lively and exciting discussion

Saturday, January 4 from 5 – 7 pm
Admission is FREE, but please let us know you're coming!