7th Annual La Pastorela de Sacramento
Holiday Musical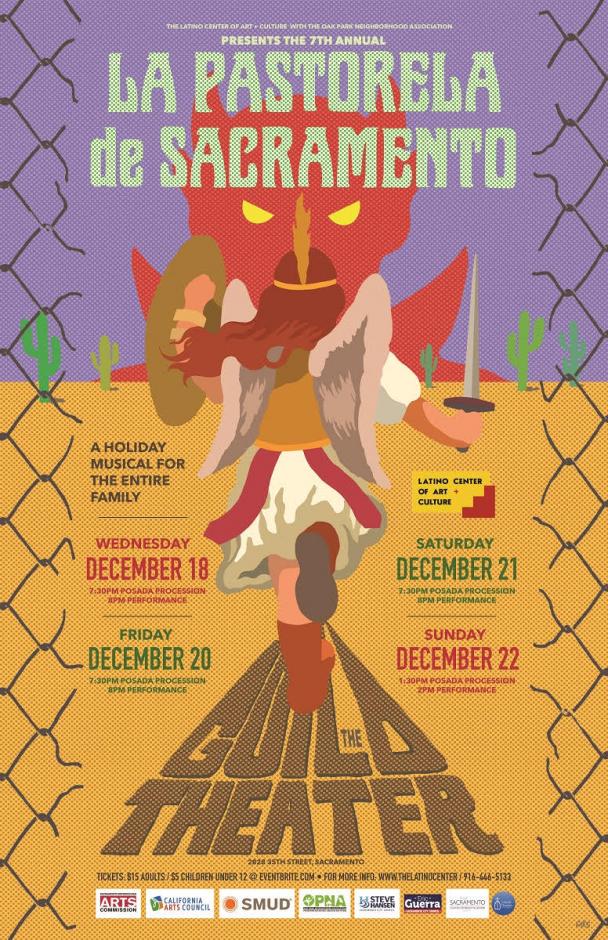 7th Annual "La Pastorela de Sacramento" Holiday Musical, at Oak Park's Historic Guild Theater Dec. 18, 20-22, 2019
(Sacramento, CA) The Latino Center of Art and Culture (LCAC), Sacramento's non-profit Latino art and cultural center, in conjunction with The Oak Park Neighborhood Association presents the 7th Annual "La Pastorela de Sacramento," a popular holiday musical for kids and adults alike.
WHAT: 7th Annual La Pastorela de Sacramento
DATES: Wednesday, Dec. 18, Friday-Sunday, Dec. 20-22, 2019
LOCATION: The Guild Theater (Oak Park), 2828 35th Street, Sacramento, CA 95817
8 PM Wed., December 18, 2019 (Pre-show Posada procession with El Coro del Pueblo 7:30 PM )*
8 PM Friday, December 20, 2019 (Pre-show Posada procession with El Coro del Pueblo 7:30 PM )*
2 PM & 8 PM Saturday, , December 21, 2019 (Pre-show Posada procession with El Coro del Pueblo (1:30 PM & 7:30 PM )*
2 PM December 22, 2019 (Pre-show Posada procession with El Coro del Pueblo 1:30 PM)*
TIX: $15-Adults, $5-Children under 12
TIX available at Eventbrite.com and at the door
https://www.eventbrite.com/e/7th-annual-la-pastorela-de-sacramento-dec18-20-22-2019-tickets-81692643897
Event Info: larazagaleria@gmail.com
Event Info: 916-446-5133
The LCAC will have a holiday mercado in the theater lobby, along with snacks and drinks.
"La Pastorela de Sacramento" is a modern bilingual musical of Mexico's traditional Christmas pageant. Satirical, poignant, moralistic, sly and romantic, with contemporary AND timeless subject matter. La Pastorela draws directly from current affairs in the best tradition of magical realism. The Latino Center of Art & Culture (LCAC) offers Sacramento a musical perfect for the spirit of the season.
The play opens with an omnipotent VOICE. The VOICE sets the stage advising the audience of the transformation they are about to witness–contemporary recognizable figures into four shepherds. Armando, a young developer about to score a major contract in Oak Park; Carmela, a Sacramento-born former Hollywood starlet who lost everything when she refused to sleep with her producer; Juan, an Afghanistan war vet with PTSD, and Gila, a college student and climate change activist face their moral dilemmas. They have to work together to help a homeless family (Mary and Joseph characters) and save the world from "fire, famine and pestilence". The finale, with its dramatic battle of good VS. evil has audiences erupting into boos, cheers and song.
Newly updated by original writers Marie Acosta (LCAC Executive Director/San Francisco Mime Troupe alum), and Tomas Benitez (Plaza del La Raza/Teatro Café), the lively play brings together professional actors and community players. Original songs amplify the visual power of the show, which uses low-tech magic to great effect. Director/Music Director Carlos Mario Kandia, is a young dynamic singer, actor and dancer from Bogotá, Columbia, now living in Sacramento.
"At the end, when the undocumented family (Mary, Joseph and the Baby Jesus) came up on stage with the procession of actors and singers and other children, there were tears in my eyes. Why? Because the play really succeeded in making me feel that it is a sin – in the only sense of that word that I actually believe in – not to take care of other people, not to protect the weakest among us."
After show comment by playgoer from NYC
*El Coro del Pueblo is a bi-lingual choir formed in 2017. They perform songs of hope and resistance– songs from the Chicano Civil Rights Movement and other social movements from Latin America and the United States. The repertoire is primarily from the '60s and '70s, songs which inspired and informed students, farmworkers and community activists including: "Quihubo Raza!," "El Picket Sign," "No Nos Moveran," "Huelga En General," "Un Son Para Mi Pueblo," "Give Peace a Chance," "We Shall Overcome" and "Blowin' In the Wind." For the Pastorela , there will be Spanish language Christmas favorites!
About LCAC:
Founded in 1972, the mission of the Latino Center of Art + Culture is to foster the artistic, economic and cultural development
of Sacramento's Latino community by presenting, exhibiting, and providing excellent artistic programs and services to Latino artists,
Latino organizations and Latino families. In this way, we actively seek social justice for marginalized and underrepresented