3rd Annual AntiRacist Book Festival
Underground Books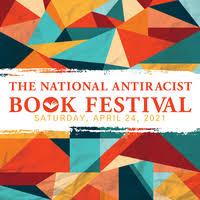 Underground Books to participate as one of the featured book sellers for the 3rd Annual National Antiracist Book Festival, being held virtually on Saturday, April 30, 2022.
Hosted by the Boston University Center for Antiracist Research, the #AntiracistBookfest is the first and only book festival that brings together, showcases, and celebrates the nation's leading antiracist writers. It will feature over 25 panels, topically organized with two authors and a moderator.
The festival assembles a day full of author panels and editorial workshops. A vibrant crowd of authors and attendees engage in antiracist dialogue that will challenge, inspire, and mobilize. Workshops bring together leading book editors and literary agents to provide insight and guidance for aspiring writers.
Underground Books will be the featured bookseller for the 5pm ET/2pm PT panel On "Enslavement and Memory" with authors Clint Smith and Tiya Miles.