What's Working: 'College Track' program creating first-gen college students
Students at Sacramento High School managed by St. HOPE Public Schools are outperforming state standards, thanks in part to the College Track program.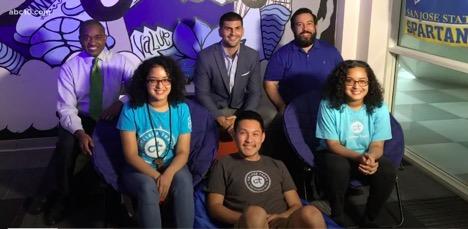 Published: 10:11 PM PDT August 8, 2018
A program called "College Track" is helping disadvantaged students become first-generation college students; setting an example for their families and their entire neighborhood.
There is a lot to be impressed by with those first-gen college students, and the guy who helped get the program off and running, Jake Mossawir. He serves as the CEO for St. HOPE, a family of non-profits on a mission.
"Our mission is to revitalize Oak Park, both through public education and through economic development," Mossawir told ABC10.
Students at Sacramento High School managed by St. HOPE Public Schools are outperforming state standards, thanks in part to the College Track program.
"While we were getting students to college, we weren't necessarily getting them across the finish line to complete college. So, now I guess it was about five years ago, we worked to bring college track to Sacramento to Oak Park to support our students," Mossawir said.
You can't miss the College Track building on busy Broadway.
"And so one of the things that I think we are most proud of is this building that we are in right now, where College Track and Teach For America are housed, is actually a building that we own at St. HOPE and the programs actually serve our students," said Mossawir.
"Just speaking from the first-generation point of view, you have no one. You can't go to mom and dad or your cousin and say, 'Can you help me with this?' It's good to know that we can depend on somebody else, maybe even outside of our family or blood line to go to," said student Alisha Reed.
Thomas Munoz serves as site director.
"And really, we think here at College Track, our secret sauce is our 10-year commitment to students. So, students enter our program when they are completing the 8th grade and we stay with them, not only through high school, but through college as well," Munoz said.
"And even after college, and we're like, 'Sign me up then!' Because it's not an everyday thing where you get a program like this," said student Luis Lopez. "The one thing I can say about College Track is that it was a life-changing program for me."
Lopez is now heading to Sac State in the fall after spending a few hours each evening after school at College Track; getting tutoring, and any lingering questions he had from the day answered.
"Knowing that I have a support system no matter what. Knowing that whatever I went through in life at home and school, College Track was always there for us," Lopez said.
They even host events, like Unity Circle, that allow students to focus on things beyond academics.
"For me, I've always been strong in my academics, but my attitude, that was a problem. I can say that they have honestly seen me grow into a better individual," Alisha told ABC10.
Alisha is now heading to UC Berkley on a full scholarship. Her twin sister, Alexus, is off to UC Davis.
"It's crazy because being a first generation, I have my mom now saying that she wants to go back to school. So, I'm 18 years old, and my mom is saying, 'I can do it too.' And it's just crazy that how me making this decision let my mom know that [she] can go back to school, and can get [a] degree," Alexus said.
In 2016, 99 percent of Sac High's seniors graduated eligible for the UC and CSU system.
"For our Latino students, 100 percent of them actually graduated CSU and UC eligible, while the state average is about 35 percent. And so we really feel happy. Not satisfied," said Mossawir.
Next time you drive by the building on Broadway, you'll know there's life changing work being done inside.
"And this is at a major corner in Oak Park. When you come into Oak Park and as you leave Oak Park, what was once an abandoned building now stands for education. You can't pass this building and not see teaching, college, and education and so that's really big for us in terms of what Oak Park stands for and our work in Oak Park," Mossawir said.
Do you have similar examples or programs in your community? Let Chris Thomas know so he can highlight them as part of his "What's Working" series.