Visible change coming to Oak Park with roof sign
By Ben van der Meer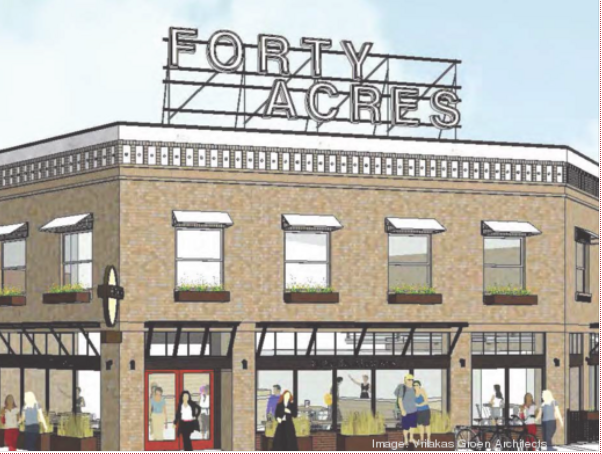 One of the most prominent commercial buildings in Sacramento's Oak Park neighborhood could be getting a bit more noticeable yet.
A proposal with the city calls for adding a neon "FORTY ACRES" sign to the roof of the building with the same name, facing the intersection of Broadway and 35th Street.
Jacob Mossawir, CEO of building owner St. Hope, said the name refers to the post-Civil War promise that every freed slave would receive 40 acres and a mule. Even so, visitors to Oak Park who don't know that history often comment that the building itself, despite the name, doesn't take up 40 acres, he said.
"The sign is trying to reclaim the promise and make it our own," Mossawir said, noting every business in the building is Black-owned and managed. "We know there are a lot of challenges in the community, but we also want to showcase the pride."
Plans show the sign will be 7 feet tall, and slightly set back from the edge of the roof to make it less of a possible distraction for passing drivers. City review will help determine whether the building's owners need to take other steps to ensure the sign's light doesn't distract drivers or affect nearby residents, Mossawir said.
"We want to make sure it fits in well with the landscape," he said. "It's supposed to be a symbol of pride in the neighborhood, not a nuisance."
Vrilakas Groen Architects, which designed the Broadway Triangle residential and retail complex on the other side of Broadway, is the project architect for St. Hope.
Mossawir said St. Hope is also planning exterior rehab work on the eastern half of the Forty Acres building at 3428 Third Ave. Those improvements would help match three storefronts to the western half, improved to house the Fixins Soul Kitchen restaurant that opened last year.
Originally built as a hotel, the Forty Acres building had become a crime haven when St. Hope acquired it as part of an effort to improve the Oak Park neighborhood nearly 20 years ago. The building now has locally owned businesses downstairs and apartments on the second floor, Mossawir said, but there's still more improvements to do.
"Aesthetically, it's not a superattractive building," he said, adding the owners have already made other improvements such as better lighting and adding planter boxes.
For the three storefronts on the eastern side, the work will create alcoves over the doorways similar to what Fixins has, he said. Though work hasn't started yet, he'd like to see it completed before year's end, he said.
Rough construction costs, including the sign, are pegged at about $150,000, a figure that includes previous improvements. But Mossawir said the total number is somewhat preliminary because he hasn't gotten bids yet for the neon sign aspect.