St. HOPE Puts Data To The Test, And Aces It
November 14, 2019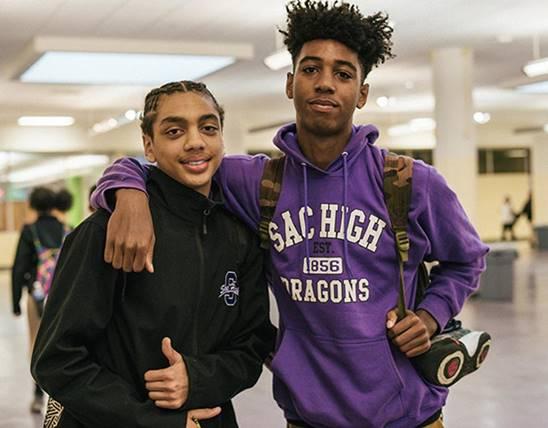 After a difficult past, the Oak Park neighborhood of Sacramento has been undergoing a revitalization. One longtime force in this renewal has been a nonprofit, St. HOPE, that has spent 30 years energizing public education and economic development aimed at helping resident families thrive.
St. HOPE, founded in 1989 by Kevin Johnson, an Oak Park native, former NBA player, and later two-term mayor of Sacramento, started as an after-school program to help Sacramento High School (SHS) students improve their grades and prepare for college. In 2003, despite a decade-long effort, only three out of every ten SHS students were reading at grade level, and the school was about to be sanctioned by the state of California and targeted for closure. So St. HOPE transitioned it to an independent public charter school.
With the help of federal and state grants, St. HOPE now operates six charter schools and serves 1,500 students from K-12. In 2017, St. HOPE reported that 96% of SHS seniors were accepted into four-year colleges. Last year, SHS ranked sixth among 15 Sacramento high schools, based on data from the California Department of Education.
Duality of Success
One of the things that makes St. HOPE's charter schools different from many public schools is its "to and through college" culture, says Julian Love, chief business officer. "From kindergarteners to seniors, all students go on a college tour at least once a year with their class." And that's not all: St. HOPE's faculty goes the extra mile to address individual student needs. "We specifically recruit teachers who believe in our mission, and are willing to work hard to help our scholars succeed," Love says.
But an impassioned faculty and a "college-going" culture weren't enough for the upstart nonprofit to make a lasting impact.
Shortly after launching its charter school network, St. HOPE started a business development unit, designed to help Sacramento entrepreneurs start new businesses and lift the local economy. "People in the community need jobs," Love says. "Our students' families need jobs."
Its first project was renovating the old Woodruff Hotel into a 23,000-square-foot mixed-use facility, called the 40 Acres Cultural Center. The center currently includes the Old Soul Coffee House, the Guild Theater, 12 upper-floor apartments, and Underground Books, one of an estimated 108 black-owned bookstores in the country, accordin
From its business portfolio, St. HOPE has created more than 5,500 full-time jobs throughout the greater Sacramento area, providing $200 million in wages, and generating more than $21 million in state and local business taxes, according to a 2019 St. HOPE Economic Impact Study.
While the nonprofit has helped increase the high school's graduation rates, college admissions, and employment opportunities for Sacramento residents, it was having a hard time overcoming its own business struggles, such as managing its cash flow and chart of accounts.
Love joined St. HOPE three years ago, when the nonprofit was facing serious financial challenges. A third-party vendor, which the nonprofit hired to manage its finances, "didn't understand our business, and wasn't able to create a realistic budget," Love says. Part of the problem was the complexity of St. HOPE Public School's accounting requirements. Its 200-member faculty and administrative staff each required their own classifications, codes, and general ledger accounts, based on the California School Accounting Manual, published by CDE. "A credentialed math teacher needs her own GL account, so does the office manager, superintendent, finance director, and principal," he says.
The nonprofit also depended on funding from roughly 15 federal and state sources, each of which required its own GL code. "Every agency stipulates its own policies on what we can and can't spend money on," Love says.
If school administrators aren't vigilant about their budgets, and actively managing their financials, they're done, says Love. But St. HOPE's administrators spent most days grinding through six-inch stacks of hand-written purchase orders, time sheets, and payroll documents. "We needed to replace our outdated business processes," he says.
In the spring of 2017, with its new school year fast approaching, St. HOPE implemented Oracle NetSuite in just 78 days.
Today, St. HOPE staffers have digital employee records and can log into the system and submit their timecards, view their paychecks, and update their HR profiles. Purchase orders for school supplies and special-education contractors are also submitted into Oracle NetSuite, where they're automatically routed for approvals and queued for payment.
Love admits the school had multiple unfavorable audit findings in the past. "But last year, we had our first year with zero federal or state audit findings," he says. This meant that St. HOPE was able to prove it had spent all of its state and federal money appropriately. Due to the clean audit and its sound financial position, St. HOPE would be eligible for a $25 million grant from the California Department of Education. "NetSuite helped us build and manage our budgets, provide financial reports, and get through the audit cleanly, which ultimately enabled us to be awarded that grant," Love says.
g to the online book database, African American Literature Book Club.