Sacramento Charter High School kicks off Black History Month with local speaker chosen by students
Kevin Powers speaks at Sacramento High School in Sacramento, Calif. on Wednesday, Feb. 8, 2023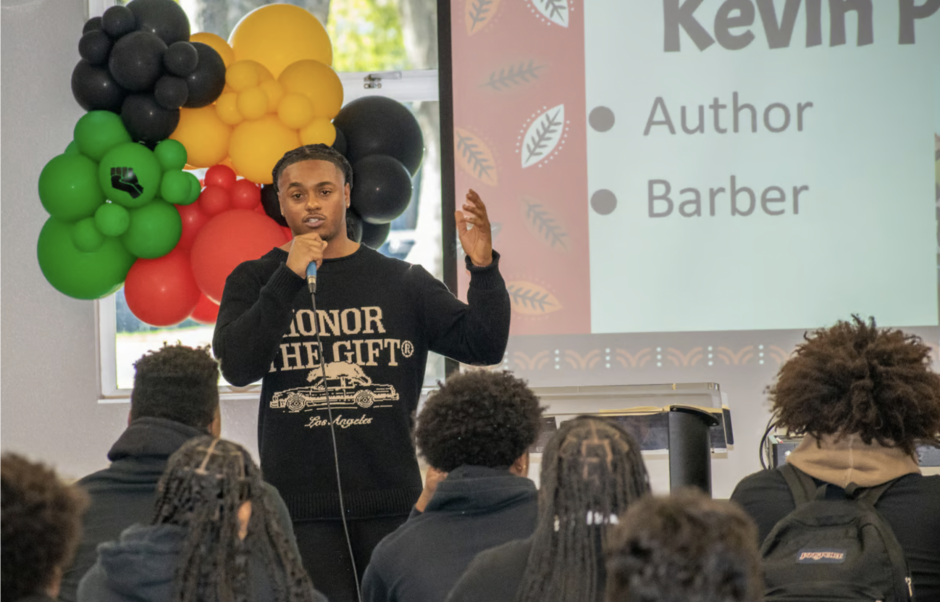 Amaya Pernell, a 17-year-old student at Sacramento Charter High school, said she was working at Underground Books when she came across "Not Today Fear!" written by Kevin Powers. She said Powers' book confronts fear, an emotion that she said was familiar and found it "can really stop you from succeeding."
When it came time to book speakers for her high school's Black History month, she said she was determined to get Powers, a Sacramento native, in front of her classmates.
"I do take a little bit of credit for having Kevin come," she said. "Kevin symbolizes positivity. I know that he's come from the same communities that I have and having him speak about his road to success inspires me."
Sacramento High's Black History Month speakers are part of an ongoing Academic Success series to uplift the diverse student body on campus. The high school transitioned from a district school to a public charter school in 2003, at a time when achievement rates were extremely low for the minority-majority student body at the school.
The public charter school is managed by St. HOPE, a family of nonprofits revitalizing Oak Park, which has led to improved educational outcomes on campus over the past 20 years. Ninety percent of students on campus graduate and 100% are meeting UC and CSU requirements upon graduation.
St. HOPE's CEO Cassandra Jennings said that empowering students is a collaborative effort between education, economic development, art and culture. She says that community leaders have to invest in the next generation so young people can feel confident as they approach adulthood.
"Connectivity is about looking at the history," explained Jennings. "We love the history of all of our great people. But then to come here and connect it to the present, that's also history that they can touch and feel and be a part of."
Powers, a Luther Burbank High School graduate, was just the perfect choice for Sacramento High students. His career trajectory comes with an unexpected twist, transforming from a Division 1 athlete with an English degree to an author of a children's book and a barber.
"I think it's amazing to know that I'm a part of Black history and a part of history in Sacramento," said Powers.
On Feb. 8, Powers stood among a predominantly Black Sacramento High classroom and shared a compelling narrative involving sports-related injuries, living out of his car, the pursuit of knowledge and mental health struggles.
"How did you deal with transitioning from football?" asked one Sacramento High student who seemed captivated by Powers' determination to persist after three separate knee surgeries.
Like Amaya Pernell, the seniors at Sacramento High came to the event armed with questions, drawing parallels between his experience and theirs.
Powers connected the dots when he described his transfer from Arkansas State University, where he went to play D-1 football, to Morehouse College, a historically Black college.
"It was different coming from Arkansas State, where it's probably 2% Black," he said. "Whereas in Morehouse, you got [to see] Black people in every every field, every major. And it empowered me to step into my life."
Kevin Powers signs books at Underground Books in Sacramento, Calif.Joshua Sandoval
Pernell, who is looking to pursue African American Studies in college, said she resonates with the idea of wanting to know about her history and the accomplishments of her community.
Powers also stressed the importance of inspiring those who look like him and showcasing nontraditional careers unfettered by the 9-to-5 grind. He said these are his motivators and why he ultimately ended up choosing to be a barber.
"Barbering is lovely because it's a way for me to connect with people from all different types of backgrounds," Powers said. "I get to know them on a personal level and to hear their stories as they hear mine."
St. HOPE's CEO Jennings said they have been intentional in how they identify speakers for their series at Sacramento High.
"We got some athletes, some academics, some chefs — We wanted to get the breadth of the [Sacramento] community," she said.
Other speakers at the high school this month include Jazmine Spears, a Sacramento High graduate and student at Tulane University, and Chef Q of the Roseville restaurant "Q1227." Previous speakers have included Sacramento city council member and former-Oakland Raider, Rick Jennings II and Danielle Hamilton-Carter, a former professional basketball player. St. HOPE is also offering a similar speaker and event series for its middle and elementary school campuses in Oak Park.
"We can learn lots of things academically and that's what our school does. We get 95% of our seniors accepted to four year colleges and universities." Jennings said "But also, we want to challenge their thinking." She said that when her students leave Sacramento High, she wants them to be equipped with, not only a good education, but the confidence to face the world ahead.
Correction: A previous version of this story misidentified the official name of Sacramento Charter High School. It has been corrected.
Srishti Prabha is a Report For America corps member and Education Reporter in collaboration with The Sacramento Observer and CapRadio. Their focus is on K-12 education in Black communities.