This Sacramento book store is defending Black and LGBTQ literature during Banned Books week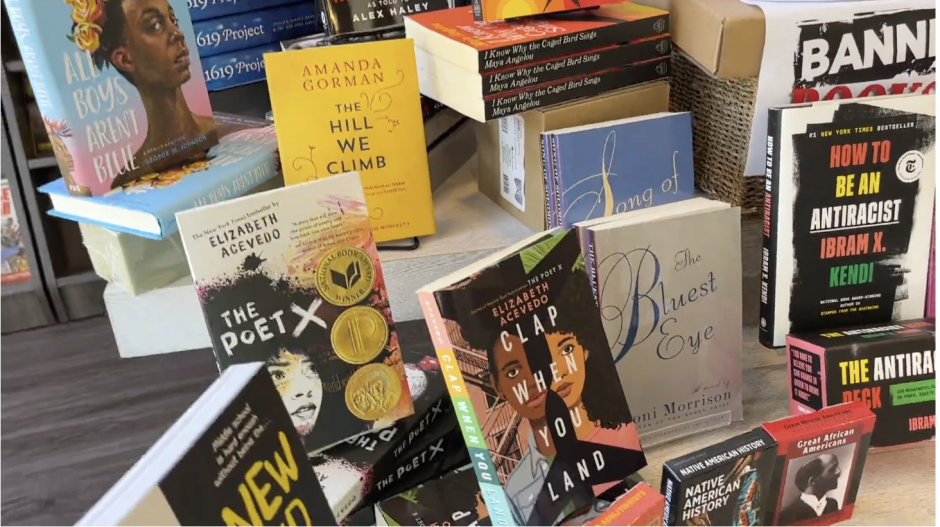 Kamuri Spears remembers a time not that long ago when the volumes on display at the Oak Park bookstore she manages were required reading in high school classrooms.
Classic works like "I Know Why the Caged Bird Sings" and "Invisible Man" explored the breadth of the African-American experience. And like "Native Son" and "The Color Purple," which were all written by Black authors, have become fixtures on banned books lists nationwide.
"These books are our foundation," said Spears, manager of Underground Books in the cultural hub of Sacramento's Oak Park neighborhood and the city's Black community. "How do we move forward with no foundation?"
Book bans within classrooms and libraries targeting Black and LGBTQ writers and their works have been on the rise. And it's turned this year's Banned Books Week, which ends Saturday, into a call to action.
The annual event highlights the value of free and open access to information, encouraging readers to buy banned or challenged books and learn about efforts to censor them. A Friday event sponsored by the American Library Association, "Let Freedom Read," calls on people to defend books from censorship and stand up for librarians and educators.
"The freedom to read is under attack," Sacramento native LeVar Burton, honorary chair of Banned Books Week and host of the long-running PBS children's series Reading Rainbow, said via X, formerly known as Twitter.
Booksellers, like Oak Park's Underground Books, are heeding the call, which mimics the store's own slogan: "Find your freedom in reading."
A FIGHT AGAINST THE GROWING LIST OF BANNED BOOKS
More than 3,600 reported book have been banned from the nation's public schools during the past two school years. About 37% of those include characters of color or discuss race and racism; and 36% presented LGBTQ characters or themes, according to PEN America, in an intensifying effort the nonprofit calls the "Ed Scare."
"The list is growing every day. That's scary," Spears said. "This is our real life. We can't make this stuff up. This bars people who are pouring their hearts into their stories and their truth. If we don't stop fighting, we'll never be able to see those books.
"We tell people, these are the books you'll want to read because they don't want you to read them," Spears said.
As states move to remove or revise ethnic studies and history from classrooms and libraries, Black booksellers such as Spears see the bans as continued erasure of Black voices, narratives and history from the national conversation.
"They want to change the narrative of what happened in the past," Spears said. "They're preaching and teaching the history that we know to be fact. We know we were slaves, that we were beaten, and to say that we benefited from that?" Spears continued, referencing Florida's controversial new public schools social studies standard which suggests slavery was neither an atrocity nor national stain but that enslaved Black people benefited from their bondage.
"That bothers me," Spears said. "Without us reading about it, how do you know? How do you grow?"
During this week, the Black media collaborative Word in Black called on the community to act against censorship and stand up for Black writers and their works.
"Racism requires erasing the truth of Black lives, Black joy and Black resilience. But we have always fought back with the written word," the collaborative said marking Banned Books Week.
BOOKS CHALLENGED NATIONWIDE
Lists of the most challenged and banned books continue to be topped by familiar names: Toni Morrison's "The Bluest Eye;" Nikole Hannah-Jones' "The 1619 Project;" "The Hate U Give," by Angie Thomas; and Black queer author George M. Johnson's "All Boys Aren't Blue."
"Over the past two years, coordinated and ideologically-driven threats, challenges and legislation directed at public school classrooms and libraries have spurred a wave of book bans unlike any in recent memory," PEN America wrote in the recent report, "Banned in the U.S.A.: The Mounting Pressure to Censor."
The efforts are "diminishing students' access to books and directly impacting their constitutional rights," the report read.
In South Carolina, a teacher earlier this year was reported by her students and reprimanded by her high school for including author Ta-Nehesi Coates' National Book Award winning memoir on race and racism "Between the World and Me" in her lesson plan. South Carolina removed the book from its Advanced Placement curriculum in June.
In Florida, a bellwether for book bans and where high school students are no longer allowed to take advanced placement courses on African-American history, some works by scholars and authors including Kimberle Crenshaw, bell hooks and Angela Davis were removed from curricula.
In California, Gov. Gavin Newsom signed emergency legislation last week prohibiting school boards from banning inclusive and diverse books, instructional materials or curricula. The governor's signature on Assembly Bill 1078 came in response to school district boards' votes to bar books that promoted racial diversity or LGBTQ figures.
Conservatives opposed to the bill argued that it ignored local schools leaders and parents who objected to the materials, and found the themes inappropriate for their children. But Newsom said the new law counters what he called a "cultural purge banning books, banning free speech, criminalizing librarians and teachers."
HOW A BANNED BOOKS LIST CAN BECOME A READING LIST
A new initiative, "She Wrote The Book," is part of the effort against censorship, amplifying the voices and works of Black women authors and connecting those writers to readers.
Brenna Bellavance, who is white, gained windows into the Black experience growing up in Davis by reading the works of Maya Angelou, Toni Morrison and other pivotal Black writers. Today, Bellavance works alongside Spears and defiantly seeks the positive in the list.
"The Banned Books list, for all of its horrors, is also a gift," Bellavance said. "If you see something on the banned books list and you don't know why, buy the book. The thing they're selling you is compassion. Being acknowledged as a whole person is as important as reading, writing and ensuring that they have food."
Spears listened to the answer and smiled.
"It's your reading list."
This story was originally published October 5, 2023, 5:00 AM.
Read more at: https://www.sacbee.com/article280069859.html#storylink=cpy