Sac High football team takes knee for anthem. How does its Vietnam veteran scorekeeper feel?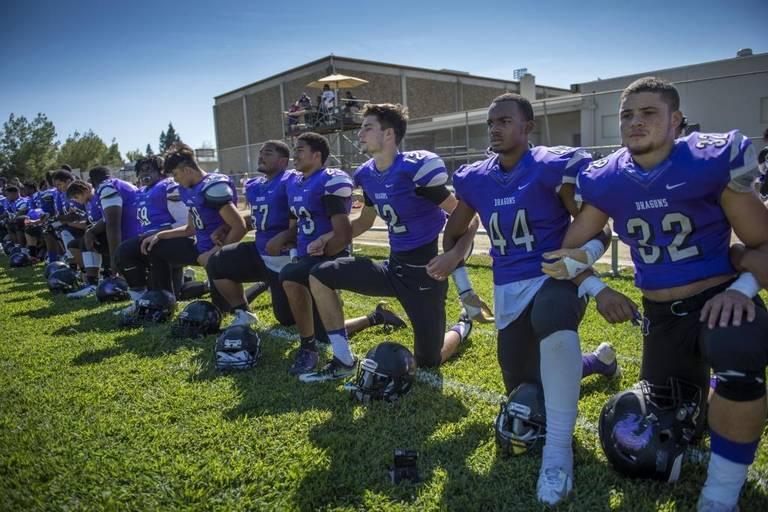 He is a beloved member of the athletic family, a fixture as the scoreboard operator, known for his gray goatee and his kindly old soul.
His name is Jack Stephens, but everyone at Sacramento High School calls him, "Pop."
Pop stood for the national anthem on Saturday before the Metropolitan Conference game against Florin, but the players he embraces as his own took a collective knee.
He is a Vietnam veteran, a Marine who saw things he cannot bear to describe. His legs often hurt so bad from the lingering effects of Agent Orange that shooting pains reduce him to a virtual crawl, but Pop still put in five hours on Friday for the Dragons' last home game this season on the Oak Park campus.
"The kids are always curious about the war and ask, 'How many did you kill there,' " Pop said, sitting in his familiar perch in a scaffold high above the track. "I tell them I came home alive. That's what what matters, and that's what all of us ever thought about over there. The kids stopped asking me now."
They were kneeling to make a stand on equality and racial injustice. Pop wasn't offended. He knows the players salute him, and they regularly look his way to wink and wave their adoration during games.
"I like it when people stand for the anthem," Pop said. "But I understand what the kids are doing."
The anthem soundtrack actually did not play due to technical difficulties, but the image was clear. Players knelt and the coaches stood to attention. Sacramento, ranked sixth by The Bee, won 65-0 in a game with a second-half running clock, but it goes beyond wins and losses for the second oldest high school west of the Mississippi.
The Dragons have taken a knee before their last two games with support from the coaches and school administration, even as debate over such protests has created an uproar on social media.
Last weekend, President Donald Trump said NFL owners should fire players who protest during the anthem: "Get that son of a b—- off the field right now, he's fired." Over 200 NFL players protested in some way during Week 3 games. The dialogue has spread across sports and through different levels. Some high schools around the country have threatened to punish students who kneel during the anthem.
Sacramento coach Joe McCray said his players approached him to ask if they could take a knee.
"I told them only if they were doing it unified and together, then I was OK with their showing support and protest," McCray said. "The unification was the major part of getting approval. We were not going to have half the team stand and the other half kneel.
"This is all definitely beyond football. These kids are expressing what they're concerned about in what they see in the media, what they talk about on campus – social injustice. Whether it's football in Oak Park or anywhere across the country, it's happening everywhere. Our administrators here say we're not teaching the kids what to think, but to think."
Earl Allen has sat next to Pop for a lot of games over the years as the public-address voice for the football team. Allen is also the coach of the Dragons' high-profile basketball team. He grew up in Alabama, "and I saw racism and hate," he said, nodding.
His father, Earl Sr., served in Vietnam. Will Allen let his basketball players kneel before the national anthem this season?
RELATED STORIES FROM THE SACRAMENTO BEE
Trump tweets anew about NFL players, national anthem protest
"I don't want kneeling to become a fad for high school kids across the country, something to do just because," Allen said. "But as a coach, you have to listen to the players, and I'll ask our guys, 'Why are you feeling a need to take a knee? Are you doing it because you genuinely feel you need to?' If so, let's talk about it and see what we can do."
One of Pop's favorite players is linebacker EJ Larry. The fondness is mutual.
"We love that man, and we don't kneel out of disrespect to any military or anyone," Larry said. "We're seeing a lot of crazy, bad things going on in this country, young people dying because of brutality. We're trying to come together."
Said linebacker Jamie Cousy, "We're united as one. We work as one, believe as one. There's a lot going on in this country."
Longtime school administrator Jim Scheible said he encourages student-athletes to express concerns through dialogue, too.
"The players talk about these things on campus," he said. "We did a lesson on the Charlottesville protests on campus in a class advisory. They've been doing this before the president started talking about the NFL players taking a knee. And they talk about it in Government Econ classes, current events."
A moment later, Scheible said of the season in general, "What these kids need is some normalcy."
But normalcy is difficult to come by in this season of promise. Eighteen starters returned from a team that stunned Folsom last season, snapping a state-leading 48-game regular-season winning streak, and the Dragons pushed the Bulldogs to the limit in a 28-19 setback, but that is not the image that sticks.
A fight between two students unaffiliated with Sacramento High in the Hughes Stadium seats during the Folsom game made national news because of the images of law enforcement using pepper spray. Now Sacramento braces for the potential of more forfeits in a league in which it completely crushes the competition.
Sacramento's games against Laguna Creek and Valley at Cosumnes River College the next two weeks will have 6 p.m. kickoffs to ease the opponents' concerns over tension in the stands. The Dragons will play their final two regular-season games against Burbank and McClatchy at Hughes, as well as any "home" playoff games.
"We know there will be more criticism for us kneeling," said Larry, the linebacker. "Some of the heat we take just isn't fair, but we'll stay together and do what we believe is right."
Joe Davidson: 916-321-1280, @SacBee_JoeD
Read more here: http://www.sacbee.com/sports/high-school/joe-davidson/article176392841.html#storylink=cpy