Sac-Born RIRE Boutique Expands Beyond Midtown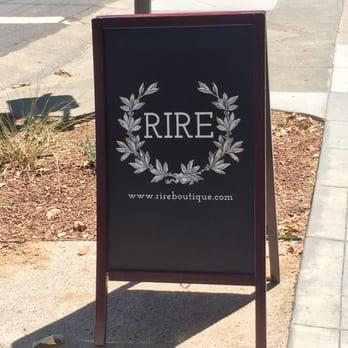 In 2012, Sacramento's RIRE Boutique established itself with its first pop-up location in East Sacramento. Since then, the contemporary clothing boutique has witnessed a growth in popularity, respectively allowing its expansion into a more permanent location in Midtown and a even further expansion into Davis in 2015 and Oak Park this last summer.
RIRE focuses on affordable clothing items and accessories that owner Josie Lee calls the "more feminine, more girly stuff." While the styles are casual enough for school, they can also be dressed up for the office, a Friday night after work or a First Friday celebration, which RIRE's Oak Park location has become a part of.
Lee says she always dreamed of opening her own business and decided to focus on fashion because of the versatility and fun of shopping.
"I ended up doing clothing because I like shopping. It's fun, it's something you can do on your own or with friends," said Lee. "I also like that, for clothing, if two people buy the same thing it doesn't necessarily mean they wear it the same way."
Lee's inspiration to open a clothing boutique started back in her fashion blogging days when she had an unsightly encounter with an unethical fashion company. She believed the underhanded deal would reflect poorly on both the company and herself as a blogger.
"I worked with a company that tried to take advantage of my readers. They wanted to send me a damaged item and I told them I wasn't comfortable with it," said Lee. "[I thought,] if they can be successful doing really unethical things like that maybe I can have a shot in business without being so unethical."
Her decision to expand into Davis grew from an increasing number of Davis customers who would come out to the Sacramento shop.
"I went there and [and noticed] there's actually a lot of boutiques, but not really targeted to students," said Lee. "They had the Forever 21 and Gap and Target and that was kind of it. We were getting a lot of people saying they are tired of shopping at those places and they just wanted something different."
Keeping to the needs of their customers, RIRE targets students and young professionals who want to look fashionable but are also on a tight budget.
Lee finds the small community of Davis is quite similar to that of Midtown and Oak Park: a clientele that appreciates local businesses.
For more information and to take a look at RIRE's always-changing clothing line, visit their [well-designed] website rireboutique.com or connect with them on Facebook.