A Place to Be
BOOKSTORE IS LITERARY HUB OF OAK PARK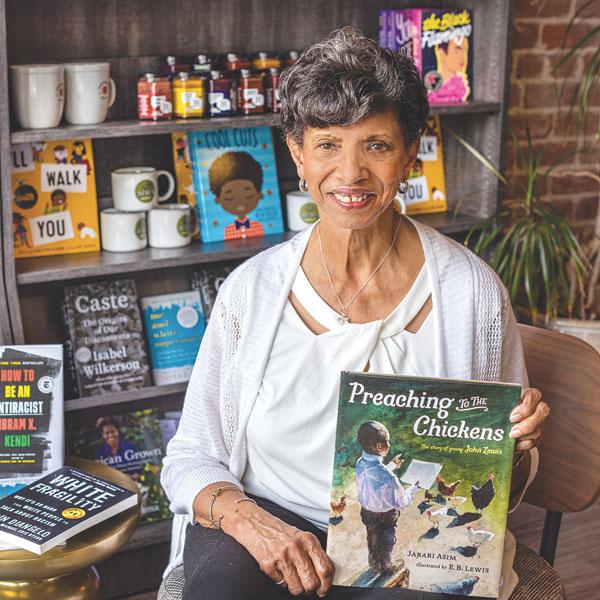 Within days of the tragic murder of George Floyd by Minneapolis police, Underground Books in Oak Park launched a long-planned website for the sale of literary works online.
Not only did the Sacramento community respond, people across the nation took note. In the first two months, Underground Books received nearly 2,500 orders.
"We are on a list of the top 10 African American bookstores in the country," says manager Georgia "Mother Rose" West, who has headed the bookstore for 16 years. "People were talking about supporting Black businesses, supporting Black bookstores. Now we're getting orders from all over the country."
Underground Books, a nonprofit owned and operated by St. Hope Academy, opened in 2003 as part of 40 Acres Complex at Broadway and 35th Street. The Guild Theater, Old Soul Co. coffeehouse, World Class Faders barbershop and Fixins Soul Kitchen are part of the complex. "All of these are community gathering places, especially the bookstore," West says. Apartments occupy the upper level.
"We were the beginning of the Renaissance in Oak Park," adds West, who received the nickname Mother Rose years ago from her son, former Sacramento mayor Kevin Johnson, who established St. Hope in 1989 to revitalize Oak Park, where he grew up. "It's taken 17 years to get to where it is now," West says. "St. Hope was the catalyst. We are all about education and economic development. You need those things to turn a community around."
West grew up in Oak Park and attended Sacramento High School, as did her father and son. "We've been a part of this community for many years," she notes.
West graduated from Sacramento City College's nursing program and worked as a nurse for 27 years in Sacramento, Oakland and Phoenix, before returning to Sacramento and working full time for St. Hope. "I loved nursing, but my heart was with our St. Hope family. I love people, I love books and I love business."
In addition to book sales, Underground Books offers a place for social connections. "We have great customers, diverse customers," West says. "We do a lot of different events to draw people in."
Pre-COVID-19 programs included book signings, lectures, poetry readings, children's story time and community workshops. The Underground Book Club has been active for 15 years and is looking for new members. Especially popular are Paint and Sip nights that bring out hidden talents and self-discovery.
The bookstore partners with UC Davis to hold talks with national authors. "We've been able to provide great authors for our customers," West says. "They speak at the Guild Theater next door, then they come over here and chat with customers and autograph their books."
The pandemic shutdown provided perfect timing for bookstore renovations. "We're upgrading, remodeling and renovating," West explains. "New floors, paint, fixtures. We'll have more books than we had before." A market will offer specialty gifts by African American artists and businesses, plus snacks and beverages. "It's an updated look, but the same old spirit."
West will be ready when Sacramento reopens. For now, with safety protocols in place, Underground Books is open Monday through Saturday from noon to 2 p.m. for pick-up orders only.
With no library in the immediate area, "We are the literary hub of Oak Park," West says. "It's a meeting-gathering place. Customers come in just to say hi, find out what's new, what's coming out in the book world. We're selling books. We're discussing books. We are a place to be. We are going strong and that is a blessing."
Underground Books is at 2814 35th Street. Visit sthope.org/underground-books-home.
Cathryn Rakich can be reached at crakich@surewest.net.