Oak Park Prep Scholar Grows Over Five Grade Levels in Reading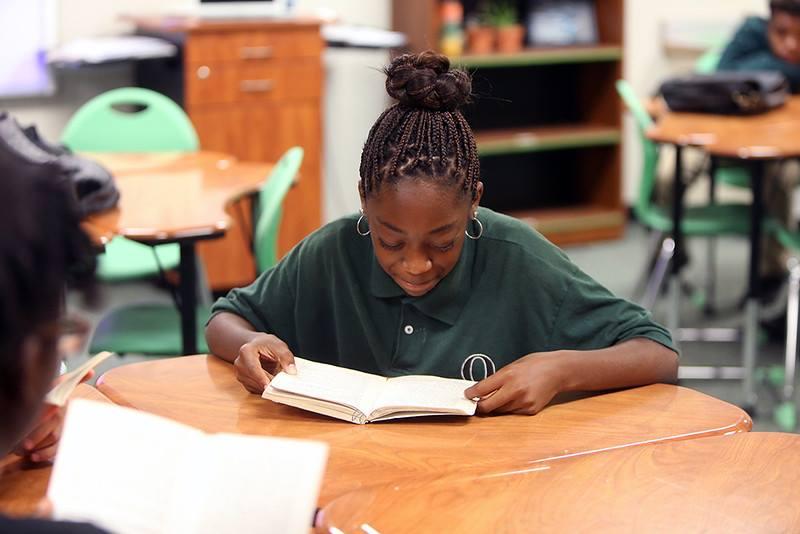 Our Oak Park Prep scholars spend two years with us, and during each and every one of those days, all of them know our mission, which can be summed up in one word: growth.
We have always placed a special emphasis on literacy. Our scholars receive two specially designed ELA classes daily. One class focuses on rigorous, grade level content while the other meets them where they are, at their individual reading level. We believe this method enhances growth and promotes a culture of learning.
Two years ago, Tyla registered for Oak Park Prep as a 7th grader and was placed in the CAL Bear homeroom. After initial diagnostics of her baseline levels, we assessed that Tyla was reading around a 3rd grade level. Conversations were held informing Tyla where she was, where we wanted her to go, and what it would take to get there.
With no time to waste, we set off to work. While Tyla's long-term reading goal was to reach grade level, we placed intermediary goals throughout her 7th grade year. Every three weeks, Tyla took an interim assessment to track her progress. We continued this process throughout her 7th and 8th grade years.
We are proud to report that Tyla graduated from Oak Park Prep reading above grade level. She has decided to attend Sac High in the fall of 2017. Tyla's hard work and commitment paid off exponentially.
As a school, we believe Tyla's story affirms the notion that with a growth mindset and a committed team, all students can achieve rigorous academic goals.