Now coming to Oak Park – startups in shipping containers
July 13, 2017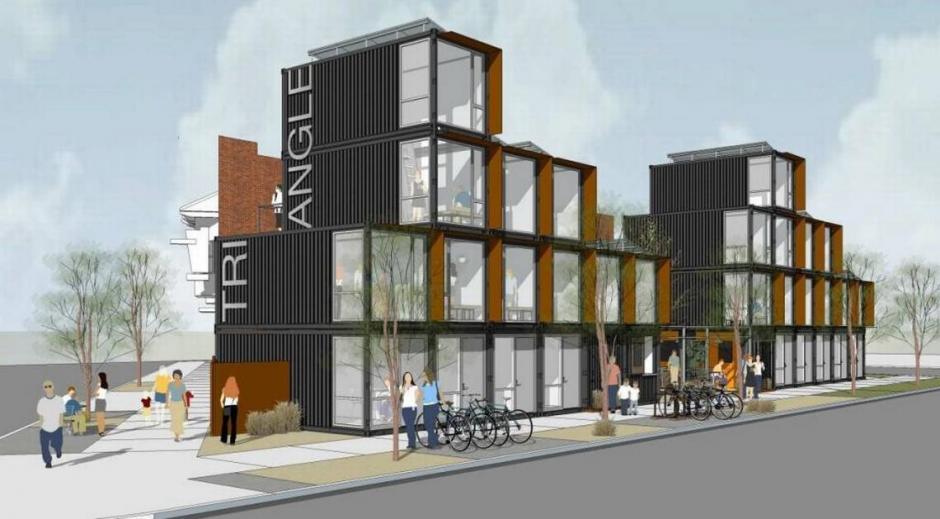 A funky new concept is coming to ever-changing Oak Park.
Architect Ron Vrilakas has a plan to construct a mini startup campus on an empty lot at 34th Street and Broadway, across from the Broadway Triangle retail and housing development he built.
But this new venture comes with a twist: Up to 30 work and retail spaces in the building would be made out of shipping containers.
"Through years of leasing experience as (a) developer in the Triangle, it has become apparent that there is significant demand for small spaces with simple lease terms to support upstart local entrepreneurs, particularly in a collaborative and creative environment," Vrilakas wrote in his application with the city of Sacramento.
Vrilakas wrote that his research revealed "projects built in many different cities that utilize shipping containers as their underlying structure." He said using those containers for this project would build a "creative aesthetic" and add "to the spirit of the district (Oak Park)."
The project – dubbed the Triangle Work Space Development – will have workspaces of around 160 square feet. Some could be merged to form larger spaces.
A public outdoor gathering space will sit in the middle of the project. The new building would stand next to Arthur Henry's Supper Club.
That section of Broadway has undergone a facelift in recent years, with boutiques and restaurants replacing neglected buildings and empty lots.
Still, parts of Oak Park remain challenged. A recent uptick in violence several blocks south of Broadway led elected leaders and pastors to respond with peace marches and neighborhood barbecues.
Read more here: http://www.sacbee.com/news/local/news-columns-blogs/city-beat/article161203548.html#storylink=cpy