To make dual enrollment more equitable, bring the college experience to high school
October 24, 2023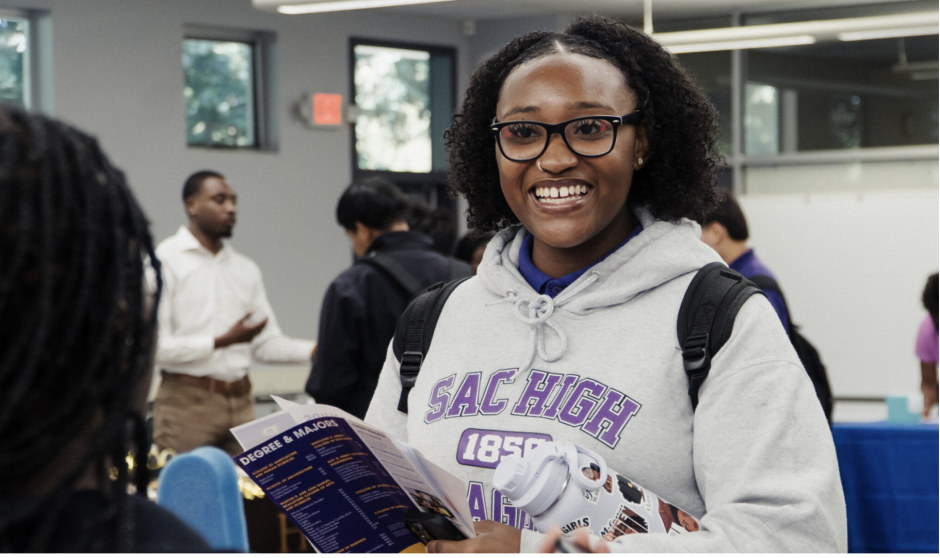 College enrollment was declining even before the pandemic. According to the National Center for Education Statistics, "the overall college enrollment rate for 18- to 24-year-olds decreased from 41% in 2010 to 38% in 2021." In 2021, the college enrollment rate for 18- to 24-year-olds was highest for Asian students (60%) compared to 37% for Black students and 33% for Hispanic students.
One important way to increase college attendance is through dual enrollment programs in which high school students take college classes and receive college credit. According to a recent report from the Public Policy Institute of California, participation in dual enrollment programs is associated with higher high school completion, college readiness and higher academic achievement.
While the benefits of dual enrollment are clear, not all students have the bandwidth to take college classes on top of their high school coursework. In order to reduce barriers and increase access to college-level courses, we have taken dual enrollment one step further at St. HOPE Public Schools. Our Panther Pipeline program brings the college experience to our high school campus. Through our partnership with the Los Rios Community College District, college professors come to Sacramento Charter High School and teach our juniors and seniors in person. Scholars enrolled in the Panther Pipeline program take rigorous college courses and receive both high school and college credit.
This program is unique because our scholars do not have to leave our high school campus to take college courses. Two days a week, college professors come to Sac High to teach in person, and the other three days, scholars complete their college work in class with their Sac High instructional aide. By bringing college to our scholars and allowing them to receive both high and college credit we are making dual enrollment more accessible and an option for scholars who may not otherwise be able to take high school and college classes at the same time.
The benefits of bringing college courses to our scholars are far-reaching. Our student population is predominantly low-income minority students, and many of our scholars are the first in their families to go to college. By exposing them to college before they need to apply in fall of their senior year, we hope to spark their interest in pursuing higher education and expand their worldview of what opportunities are available in college. Providing our upperclassmen with multiple college course offerings while they are in high school helps them home in on what major they may want to pursue in college as well as think about what career might be the best fit for them.
Dual enrollment programs provide students with an opportunity to graduate from high school with college credits, which helps them save money on college tuition by reducing the number of college classes they need to graduate. High school juniors enrolled in our dual enrollment program could potentially take four college courses before they graduate from high school, saving them time and money while in college.
Bringing college classes to our high school campus also helps reduce transportation barriers for students who may not be able to travel to a college campus. Many of our scholars have after-school commitments — jobs, sports, and responsibilities at home — that might prevent them from taking courses at a college campus, but when they are part of their high school day, those barriers are removed.
An important part of our dual enrollment program is that it provides students with a multitiered system of support. We have high school teachers who help students navigate and manage their college coursework, and students have access to the Los Rios College campuses, facilities and tutoring resources. This is critical for preparing students for university-level expectations and ensuring they have the study skills to succeed in college.
As we collectively work on increasing access to college and career pathways, I encourage high schools around the state to offer dual enrollment programs that provide students with both high school and college credit. Taking college courses in addition to high school classes can be daunting, but combining college and high school credit is much more doable for many students, especially those we are trying to get into the college pipeline.
•••
Lisa Ruda is superintendent of St. HOPE Public Schools, a tuition-free, college prep public charter school network in Sacramento.
The opinions expressed in this commentary represent those of the author. EdSource welcomes commentaries representing diverse points of view. If you would like to submit a commentary, please review our guidelines and contact us.