Historic Black Beer Comes To City
By Antonio Harvey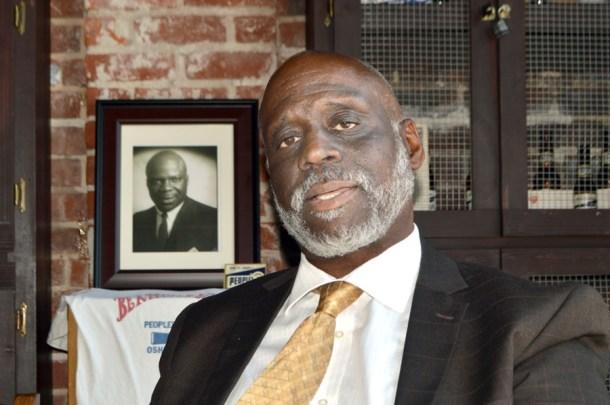 On April 12, 1970, Theodore "Ted" Mack Sr. and a group of investors successfully purchased The Peoples Brewing Company in Oshkosh, Wisconsin, making the venture the first African American ownership of a major brewery in the country.
Ted Mack Jr. stands in front of a photo of his father. Mack Sr. was a civil rights legend and a persistent businessman. (photo by Antonio)
Ted Mack, who picked cotton in Alabama during his formative years, was 40 years old. Fifty years later, the recipe of hops and barley for Peoples Beer made its way to Sacramento's Oak Park neighborhood.
Ted Mack Sr.'s son, Theodore "Ted" Mack Jr., 61, was in the River City last month to discuss the strategic move to the West Coast and his father's legacy, which indeed is a Black history gem.
"My father understood economics and market shares. That's the reason why he started Peoples Beer," Ted Mack, Jr. told The OBSERVER. "He was actually a civil rights giant and could have kept going that way. But dad's thing was that he stood up for people. He did everything to help people. The name is in the beer, the people's beer."
Peoples Beer will be sold in Oak Park's Fixins Soul Kitchen, Slim and Husky's Pizza Beeria, and the Oak Park Brewery OPB. In time, the Black-owned beer could be available in the region's restaurants, supermarkets, and local bars.
The product is also creating jobs and economic empowerment in Sacramento, which was Ted Mack Sr.'s primary focus. Today, there are more than 8,000 breweries in the country, and less than 1%, about 60, are Black-owned.
Mack was in Sacramento recently to conduct a flurry of interviews with the local media and meet members of the community to introduce his family's beverage. He also conferred with the brewmasters at OPB.
"This is a continuation of destiny," Mack said. 'This is not a rebirth. It is a turning of a page to the new chapter in our road to the promise. Dr. Martin Luther King said, 'We as a people will get to the promised land.' Well, that's the same thing for my dad's beer. I'm just carrying on his legacy."
Ted Mack's Rise From Alabama To Pabst Beer
Ted Mack, Jr. said his father led a well-rounded life. After dealing with the strains of racism in Prattville, Alabama, where he worked substandard jobs, Mack Sr. branched out to make his own path.
He was an army soldier, Ohio State University football player, a graduate from Marquette University in Milwaukee, and did some post-graduate studies at the University of Wisconsin in psychiatric social work.
For several years, Mack was employed at Milwaukee County Welfare Department — mainly to help African Americans seek better social opportunities. But Mack left that job, disappointed with the obstacles to affect any change to the social services system, Mack Jr. said.
Mack would join Pabst Brewing Company and eventually climbed his way up to a plant manager while dreaming of running his own brewery.
"While he was there at Pabst," he relentlessly learned about every position in the plant," Mack Jr. said. "There were not that many Black people working there but the White people respected my father. He had to make decisions in order for the company to make money and the employees could eat."
After a while, Mack engaged to turn his dream into a reality. Mack was a member of United Black Enterprises (UBE). UBE was connected to the Afro-Urban Institute, working as a Milwaukee ghetto non-profit group that encouraged African American involvement in the economic community.
Founded in 1911, The Peoples Brewery was Oshkosh's third brewery. It was founded by locals with the intention of selling stock to the people of Oshkosh and surrounding farming communities.
The brewery survived prohibition but by 1969 small breweries were on the decline, and as only the 11th largest brewer in Wisconsin, The Peoples Brewery was on pins and needles. The business had to be sold or face bankruptcy.
Mack, UBE, and its board of directors turned their attention to The Peoples Brewing Company. The company was sold for a total of $365,000 with an additional $70,000 paid for the existing inventory.
The purchase was facilitated by a $390,000 Small Business Administration-backed loan, on the condition that the UBE raised an additional $200,000 for operating costs through stock sales.
"When the public understood that the brewery would be the first owned by a Black person, stocks started selling left and right," Mack Jr. said.
Peoples Brewing Company produced various labels and in 1971 purchased the Oshkosh Brewing Company. Mack also enhanced the company by installing a new tapping system, inventory, and canned its beer in pop top cans.
According to Henry Crosby, one of UBE's board of directors, despite these changes and growth, by November 1972 Theodore Mack Senior ceased production of The Peoples Beer.
"Discrimination and poor sales in Milwaukee, a $35,000 tax lien placed on the company by the Internal Revenue Service, and a suit that Mack brought against the Small Business Administration and the Defense Department seeking $100 million in defense contracts contributed to this decision," the Henry Crosby Papers, 1969 -1975 states. The Crosby documents are archived by the University of Wisconsin-Milwaukee Libraries.
"My father's business ended because of systematic racism," Mack Jr. said. "He was practically black bagged. He was competing against the big boys like Budweiser. They were scared of my daddy. So, they took him out before he got too big."
The Peoples Beer New Home – Oak Park Brewery
Former Sacramento mayor and retired NBA All-Star Kevin Johnson was researching American breweries, specifically Black-owned brewers when he stumbled across Ted Mack Sr.'s intriguing story.
"He (Ted Sr.) had passed on. So I contacted the family," Johnson said. Ted Mack Sr. passed away in February 2019.
Johnson hooked Ted Mack jr. up with Oak Park Brewing Co.'s (OPB Co.) brewmasters Geoff Scott, Rebecca Scott, and Rodg Little. The Scotts were original managers of Track 7 Brewing Company in nearby Curtis Park.
The Scotts and Little supervise the brewing process of malt liquors from ale, lager, stout, and pilsner recipes. Peoples Beer, lager yeast and cluster hops, contains 4.7% alcohol per 12-ounce serving, Little said.
Peoples Beer is brewed and canned in Oak Park and is certified with the Brewers Association – Independent Craft Brewers' seal. The beer is sold in 32-ounce bottles, six-packs, 12 packs, and by the case (24-count).
"So, all we needed was a vision, which was brought to the table," Little said of the process to redevelop the recipe. "We wanted to first build a relationship of trust between the estate (Ted Mack Sr's heirs). The product was already produced and the original recipe is not difficult to follow once we sought out the ingredients."
Little has been a brewmaster for more than 15 years and he improved his skills while working with Pangaea Bier Cafe in Curtis Park. The restaurant, owned by local Black business owner Rob Archie, is known for its Belgian beers.
"I look at this, Peoples Beer, as being a great opportunity," Little said.