Derek Swafford leaves Sac High basketball team for new challenge
By Joe Davidson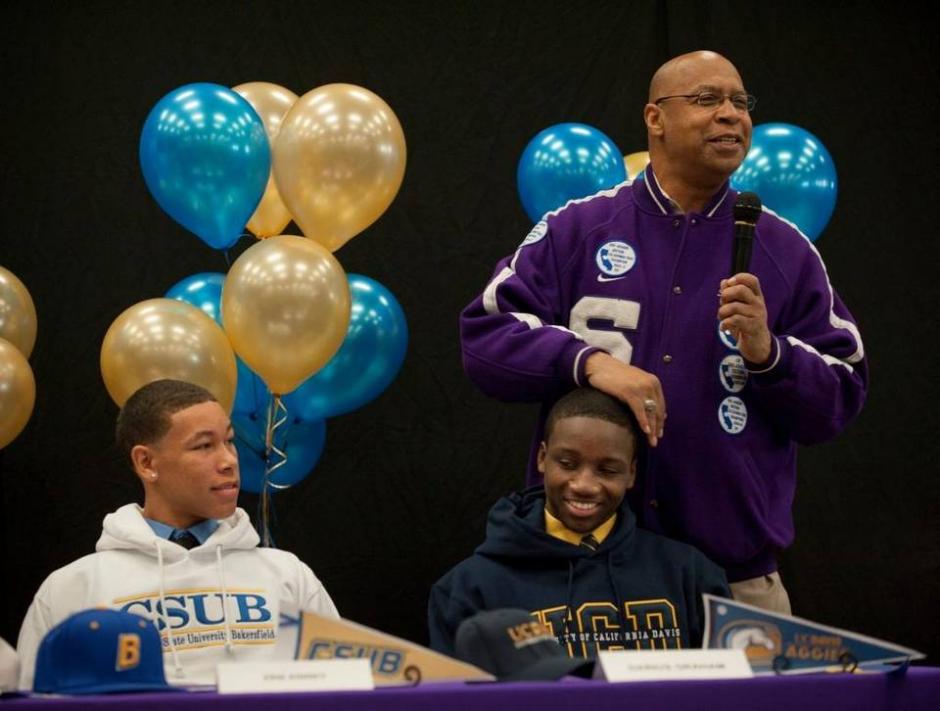 Derek Swafford was a glowering and towering fixture in Oak Park for 16 years.
By day he glided his 6-foot-3 frame, usually outfitted in a suit and tie, across the campus at Sacramento High School as the dean of students, a friend to many, a disciplinarian to all. By night he stalked the sideline during Metropolitan League boys basketball games as the Dragons' coach.
Swafford now is poised for a career change. He has turned in his coach's whistle and clipboard for a desk and a master plan. He has resigned as Sac High's coach – after 16 seasons, 433 wins, 15 league championships, six Sac-Joaquin Section banners and 11 trips to the CIF NorCal tournament – to become the athletic director at Fortune School of Education, a charter school in Sacramento.
Fortune is a kindergarten-through-12th-grade school with a particular emphasis on African American students. The school still is relatively new and will begin freshman classes in the fall.
"It's time, and I have a golden opportunity at my age, 63, to do something like this, to help a lot of people to start something unique from ground zero – to help kids learn discipline, critical thinking skills," Swafford said. "It's where I belong now. But I've had some tears. I drive by Sac High, and I get emotional.
"That was 16 good years there – blood, sweat and tears, something I'm very proud of. We put in a lot of work to make Sac High basketball special, and it's been an honor."
That Fortune still is largely unknown seems fitting. So was Swafford when he assumed the Dragons' program in 2000 after various assistant coaching gigs across the region, including girls head coach at Natomas. Swafford frowns on failure based on laziness and preaches education as a man who can relate to both ends of the spectrum. Swafford said he was on a course to fail as a teenager, his self-induced woes stretching into his early 20s. Then he turned his life around.
Swafford was a high school dropout in Compton, then washed out of community college. He spent his days gulping down beers and sleeping it off in his van at the beach, his Afro so full it grazed the ceiling of his ride.
One day, Swafford bumped into an acquaintance, a businessman who looked him up and down and sighed. Life was too grand to throw away, the man told Swafford, and he was too bright not to take on college and make a difference.
In 1977, the 24-year-old Swafford became a dedicated student for the first time, and he was hooked. He became the student body president and commissioner of black studies at Los Angeles Valley College. He graduated from Sacramento State and earned a master's degree in education and counseling at La Verne. He has championed learning and life lessons ever since.
Swafford's legacy is results. The Dragons didn't just win games and championships. Scores of athletes went to college, including 19 Division I scholarship players. Several became teachers and coaches.
Swafford emphasized academics, fundamentals, teamwork, sportsmanship and community involvement. The Kings Foundation awarded Swafford's last team – his best – with the Pete Saco Community Award in April during a Kings home game.
Last season, Sac High went 30-2 as The Bee's top-ranked team, powered by Sacramento Bee Player of the Year Solomon Young and first-team All-Metro pick Christian Terrell. Cal-Hi Sports named Swafford the section's Coach of the Year for this academic year.
Said Young: "We were great because coach Swafford made us great, and it all started with him."
Swafford long has talked of retiring to the beaches of Jamaica in his late 60s to sip mai tais, walk into the surf and celebrate a career well done. But no van this time. Maybe a golf cart.
"That'll be my hub – Jamaica," Swafford said, laughing.
First, he wants to help elevate Fortune.
Without sophomores, juniors or seniors yet, Fortune will have freshman teams next season that compete among small schools, either Division IV or V. The athletic department will not field a football team but will include soccer, volleyball and basketball squads. Winning won't be an emphasis, Swafford said. Learning to compete is the top priority.
"We all put too much into winning, and it doesn't have to be that way," Swafford said. "Sometimes when kids hear 'No,' they make it feel like it's the end of the world. It's not. In life, in school, we have to learn to pick ourselves up after setbacks, and there will be plenty. Get back to the drawing board and come back better. How do you respond to adversity?
"I don't understand this world right now, with all the shootings and violence. It's scary. We can't protect our youth all of the time. We have to grow together. So at Fortune, we're going to start with the learning process of life earlier and transition those students into high school and into life. I'm ready for that challenge."