Bay Area restaurateur to add hofbrau to Oak Park offerings
June 10, 2016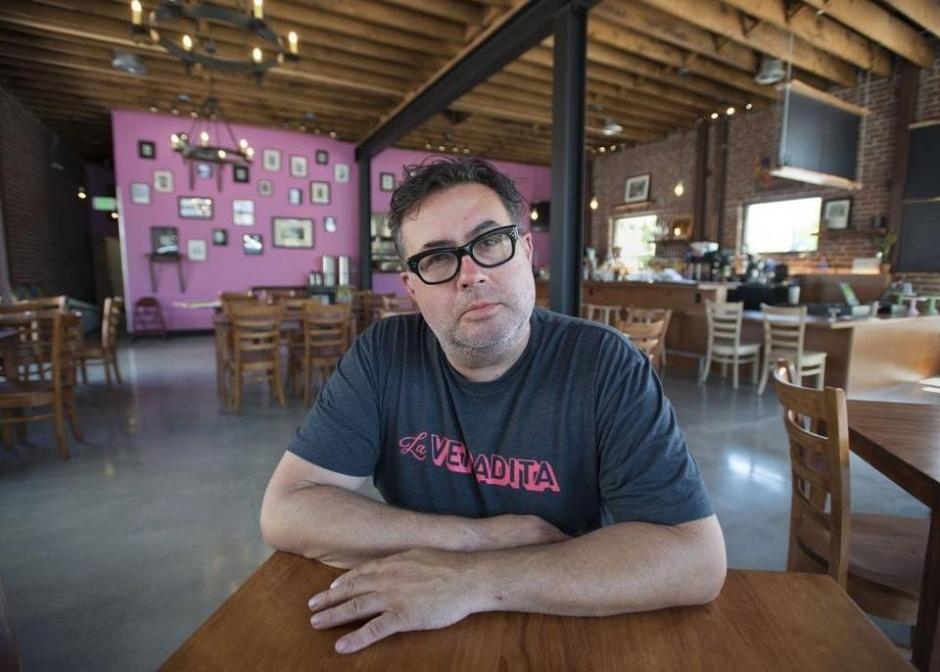 Tom Schnetz to open new eatery next year close to his Oak Park taco shop
Offerings to include sandwiches, carved meats, stuffing and veggies
Restaurant also to have German beer garden in adjacent alley
Tom Schnetz, the successful Bay Area restaurateur who last month opened La Venadita in Oak Park, now is planning to start up a hof brau in the same neighborhood. Randy Pench rpench@sacbee.com
BY BOB SHALLIT
bshallit@sacbee.com
Five weeks after opening a busy taco shop in Oak Park, Bay Area restaurateur Tom Schnetzis on the verge of signing a lease for a second eatery just down the street.
"It's going to be our take on a hofbrau," Schnetz said of the new venture, as yet unnamed, that he expects to open early next year within developer Ron Vrilakas' mixed-use Triangle complex on Broadway between 34th and 35th streets.
Schnetz, who grew up in Sacramento, said he's been thinking for some time about opening a restaurant based loosely on Sam's Hof Brau, one of his favorite childhood eating spots.
"We weren't thinking of Sacramento" as the location, he said. "Then this spot became available."
The idea is to offer some of the sandwiches that Schnetz and his brother, David, offered at the Marshall Grounds breakfast and lunch restaurant they ran in midtown in the 1990s before Tom gained fame with multiple eating spots in Oakland and Berkeley.
The menu also will include carved meats, including prime rib and turkey, along with various kinds of stuffing and gravy, scalloped potatoes and "nicely cooked" vegetables, Schnetz said.
In addition, the place will feature outdoor seating and a German-style beer garden in part of an alley that runs diagonally through the block. The alley is scheduled to be blocked off to auto traffic.
Schnetz, who recently bought a house in Oak Park where he stays while attending to his local ventures, said he's had an "amazing" response to La Venadita, the taqueria and bar he opened May 3 at 3501 Third Ave.
"Each week, I grow the menu a little more," said the 49-year-old chef and entrepreneur. Recent additions are carne asada tacos and corn and zucchini pudding.
He also plans to start serving breakfast late next week, with menu options including carnitas hash, huevos rancheros and chilaquiles, a dish Schnetz makes by sautéing leftover tortilla chips with chili sauce and cheese, then topping them off with scrambled eggs, onions, cilantro and avocado.
"That's one of my favorite things," he said of the latter dish.
Hoops and hopes
Sacramento financial adviser Wornel Simpson made a big splash seven years ago, creating a program that combined competitive basketball, and mentoring and tutoring to help local kids make it to college.
The program, called Scholar Athletes Globally Emerging, is in rebuilding mode now. But there's no denying SAGE's impact. It helped 35 local kids – most of them from challenged backgrounds – make it to college.
And it fostered a culture of giving back that will be evident this weekend.
A SAGE team of high school kids from Oakland – the only team remaining from Simpson's initial efforts – and a bunch of local teens will meet here for two days to hear local luminaries talk about nutrition, wellness, academics and spiritual growth.
Significantly, at least six grads of the Sacramento SAGE program will be present to fulfill pledges they made to help out those coming up behind them.
Among those returning will be Simpson's son, Kellen, now a junior at Long Beach State.
The younger Simpson recently attended some of the Oakland team's games and addressed the players, telling them he and other SAGE graduates have their backs.
As Wornel recalls it, Kellen told the kids: "As long as you're wearing SAGE on your chests, you're part of the family."
Goodbye, again
I retired from this column-writing gig a little more than four years ago, then came back last year expecting to fill in for a recuperating colleague for a few months.
Those few months became a year and then some. Now it's time to dial back my efforts here and embrace a few long-deferred interests and hobbies.
You'll still see my name in the paper. I plan to continue writing – but far less frequently. And I'll probably do a little editing.
But the column is history. Really. I mean it this time.
Thanks to all who welcomed me back for this return engagement and to those who helped fill this space by offering their news tips and perspective.
It was great fun.
Bob Shallit: 916-321-1017, bshallit@sacbee.com, @BobShallit

Read more here: http://www.sacbee.com/news/business/biz-columns-blogs/bob-shallit/article83082067.html#storylink=cpy