Emotional trauma of youths bared in 'Trigger' play
Posted by Stock Daily Dish Contributor on December 15, 2019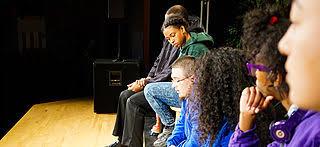 Standing at center stage Saturday in Oak Park's Guild Theater, Sacramento teen Alex Cuevas pulled out a piece of paper and, with a full, booming voice, recited a poem he had written.
The rosary that hung from his neck bounced back and forth against his blue hoodie as his character told the audience the struggles that he had faced in his short life.
"So what if my mother didn't want me?" he asked. "My grandma didn't have to die."
Playing a teen named Christian who had been abandoned by his parents at a young age, Cuevas gave the spoken word-style performance in "Trigger," a play illustrating the emotional and mental trauma experienced by the country's youths.
He was one of six local teens and young adults selected to star in the show. Five of the actors represented different types of traumas that young people can face, including abandonment, gun violence and depression. A character, named Promise, narrated throughout the care circle session and interacted with other actors.
An adult doctor, acted by Eric Pennington, led the teens through different exercises.
Area residents DeAngelo Mack and Vannessa Lindsey devised the play as part of a yearlong project. Lindsey, president and founder of , a longtime youth services program, approached Mack with the idea of crafting a play dissecting youth and trauma after receiving a grant from Kaiser Permanente in April 2016.
"We, as adults, we are always telling the youths' story," Lindsey said. "I wanted the youths to tell their own story."
Mack, program coordinator for , an aftercare service provided to local youths who have experienced violent crime, said the idea piqued his interest and tapped into his previous experience in theater. He worked as a co-writer with the young actors and directed the play.
Mack moved to Sacramento from Chicago in 1997 to pursue a degree in theater at Sacramento City College. He spent his early years in Sacramento landing roles in local shows and doing some playwriting before becoming a youth pastor with New Covenant Christian Ministries in south Sacramento in 2000.
"It was my faith in God that moved me to want to encourage young people to better their lives," Mack said. "Living in south Sacramento, I could tell, there was a lot of hurting people."
He would stay there about eight years. Seeing parents dealing with drug addiction, siblings who were in gangs or helping family members who had been victims of violent injuries were some of the struggles that the youths he worked with dealt with every day.
He was later hired at the Sacramento Violence Intervention Program in 2010, where he started as an intervention specialist.
There, he would provide guidance to young adults ages 14 to 26 who had been victims of violent trauma, such as a stabbing or shooting.
Mack said two separate shootings that claimed the lives of two teens near his church served as a catalyst that pushed him to want to do more in his community.
Though the play was formed independent of his duties with the Sacramento Violence Intervention Program, Mack said he drew inspiration from his experiences with local youths at the aftercare program as well as his time as a youth pastor.
A listening campaign carried out at the start of the playwriting process through local schools also gave Mack more clues about how and when youths experience trauma.
"We just asked the questions: 'What is trauma to you? What is the earliest time you experienced trauma?' " Mack said. "The answers were alarming."
On average, the students he spoke to said they experienced their first violent incident at age 7. Mack said major violence was defined as an incident that drew blood or required hospitalization.
Local students that Mack had met with while at the Sacramento Violence Intervention Program, from his work in the community and from local schools were encouraged to audition for the play. After students auditioned and were selected, they worked with Mack to tailor the scripts to incorporate real-life trauma that they had experienced, Mack said.
A question-and-answer segment at the show's end connected performers with the audience.
"We're baring our souls," Cuevas said. "When we're speaking to the world, we're trying to show that everything is going to be OK. Things take time."
Nashelly Chavez: ,