Warning Shot
Inspired by true events about water rights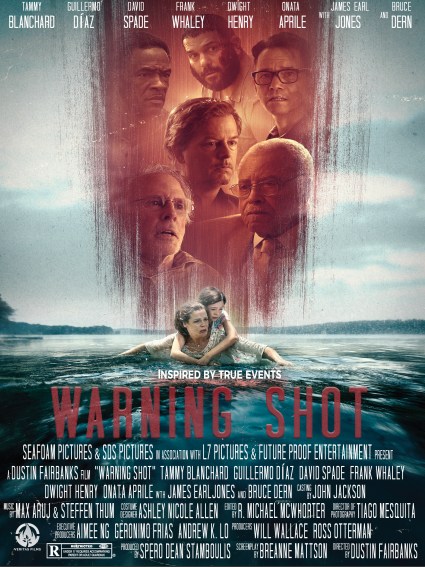 Warning Shot (About):
…It's easier to ask forgiveness than permission
Audrey (Tammy Blanchard – The Iceman Cometh and Tallulah) a single mother to daughter, Cheyenne (Onata Aprile – What Maisie Knew and Madam Secretary), is trapped in a constant struggle to make ends meet. When her grandfather passes away, she inherits the family's farmhouse, for which the lucrative water rights are coveted by Calvin (Bruce Dern – Nebraska and The Hateful Eight) — a longtime business rival of Audrey's grandfather. Calvin's own grandson, Bobby (David Spade – Father of the Year and The Do-Over), is on a mission to prove that he can take on the family business, and decides to take matters into his own hands by hiring the mentally unstable Rainy (Guillermo Diaz – Scandal) and drug-addicted Jawari (Dwight Henry – The Birth of a Nation and 12 Years a Slave) to intimidate Audrey and Cheyenne into giving up the property. Once Bobby's goons realize Audrey does not intend to go quietly, the situation quickly spirals out of control. Mother and daughter held hostage and fight for their lives! This high stake thriller, marking David Spade's first dramatic role, we witness the strength of a mother oing everything within her power to protect her young daughter.
****
Cast Info:
Tammy Blanchard- Tallulah, Defining Moments, and Boarding School
David Spade- Father of the Year, Hotel Transylvania 3: Summer Vacation, and The Do-Over
James Earl Jones- Rogue One: A Star Wars Story, The Lion King (2019), and Driving Miss Daisy
Bruce Dern- Nebraska, The Hateful Eight, and Chappaquiddick
Gillermo Diaz'- 124 episodes of Scandal (TV Series), Monster Trucks, and Sneaky Pete
Niki Koss- Famous in Love (TV Series), Trafficked, and Scouts Guide to the Zombie Apocalypse
Onata Aprile- What Maisie knew, Madam Secretary (TV Series), and Instinct (TV Series)
Dwight Henry- Sexual Healing, The Birth of a Nation, and 12 Years a Slave
Steve Eastin- Locker 13, Dipsticks (TV Series), All Things Fall Apart, and Up in the Air
****
PRODUCTION / FILMMAKERS
Dustin Fairbanks (director) comes from a production background working in many aspects of mainly working as a director in commercials and music videos.He created a production company L7 Pictures and launched a new TV show on Bloomberg Network called "The American Dream."
Spero Stamboulis (producer) in 2006, Spero formed his own production company, SDS Pictures, and has since racked up credits on TV commercials, a series pilot, and several feature films, most notably "Clear Lake, WI", and the recent indie standout The Eyes (starring Nicholas Turturro, Vincent Pastore, and Megan West.) He also completed the critically acclaimed true faith-based film "This Day Forward."
Will Wallace (producer) produced, written, and directed numerous award-winning films. He is a producer at Sunflower Films with Terrence Malick and Ed Pressman in L.A. His projects include executive producing "Flatland: The Movie", starring Martin Sheen and Kristen Bell, and The Appearing. Most recently, Will directed the feature entitled, "Red Wing", starring Bill Paxton, Frances Fisher, and Luke Perry. He also produced and directed "Trafficked", starring Ashley Judd and Anne Archer.
Mark Rickard (Executive Producer) Since forming the production and theatrical distribution company Creative Freedom in 2011, PGA-Producer Mark Rickard has produced five titles—the most notable being "Red Wing", starring Glen Powell, Bill Paxton, Frances Fisher, and Executive Produced by film icons Terrence Malick and Edward R. Pressman. Additionally, his company developed the upcoming faith-based sports drama "Run the Race", which was Executive Produced by Tim Tebow, and is set for wide theatrical release through Paramount Pictures in 2018. Mr. Rickard also owns the genre-based production company Dark Red Films, which produced the psychological thriller "House of Good and Evil" for eOne Entertainment, and is in pre-production on the supernatural drama "Southern Gothic". Currently, in addition to active development of several other films, he is working with illustrious "Lord of the Rings" producer Mark Ordesky to develop a big-screen adaptation of "VURT"—a sci-fi trilogy based on the Arthur C. Clarke Award-winning novel of the same name.
Aimee Ng (Executive Producer/Co-Producer) After a career debut including theatre and TV appearances, Aimee jumped at the chance to star in and produce the 72-hour shootout short film "Finding You" in 2015. The drama premiered in New York and Los Angeles, and garnered Best Actor, Best Director, and a Top Ten ranking from the Asian American Film Lab. A second short, "Unconditional Love", followed by a co-production of a feature film, the true faith-based "This Day Forward", under her belt, Aimee concedes that a script must resonate with her to warrant consideration. She also admits to a love for the supernatural. Current projects include "The Harvest", a sci-fi thriller, and "61 Ash", a horror title inspired by true events. In a decidedly non-terrifying twist, Aimee also has a nonfiction novel in the works, as well as an animated children's TV series with ties to her online baby clothing venture, "Bamboo Baby."