40 Acres Celebrates 15 Years by Completing the Vision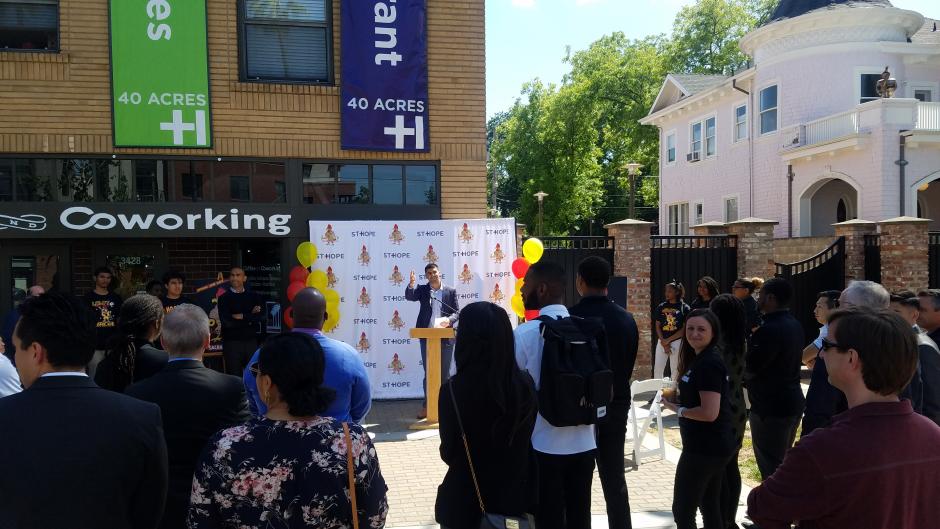 May 2018 marked the 15 Year Anniversary of St. HOPE's 40 Acres Cultural Center in Oak Park and was celebrated in many ways, including a major announcement!
Once a neglected and boarded-up building frequented by drugs and prostitution in the 1990's, 40 Acres has blossomed into a thriving mecca of businesses, patrons and community events throughout the course of the past 15 years. The transformation is due in large part to the efforts of many individuals who believed Oak Park would once again become a destination and gathering place for people both near and far.
The complex was aptly named, "40 Acres," which derives from an American promise made to post-slavery. African Americans who were to be given 40 acres of land and a mule for unpaid labor during slavery. While this promise was never realized, the concept of "40 Acres" is symbolic; African Americans do not have to rely on anyone's promise, but can create their own businesses and economic opportunities.
On May 15, 2003, St. HOPE Development Company proudly opened the 40 Acres complex with an African-American owned bookstore, a barbershop, coffee shop, a renovated Guild Theater and an art gallery featuring African American artists.  Just one storefront remained to fully complete the vision — a restaurant.  On May 31, 2018, the announcement was made to open Lo-Lo's Chicken and Waffles in the space currently occupied as a co-working office.  Lo-Lo's, based in Phoenix, Arizona, has several restaurants in the Western U.S. with the Sacramento site scheduled to open in June 2019.  The announcement of the new soul food restaurant has been well-received by the community, which has expressed excitement for a new eatery that is a good fit for Oak Park.  Lo-Lo's Founder Larry "Lo-Lo" White traveled from Phoenix to attend the announcement festivities, which included the unveiling of a new banner and samples of the special Lo-Lo's hot sauce.