Adelfa Maria Simpson "Yoga for Daily Living: Balancing Body, Mind and Spirit for Health, Happiness and Peace "
Discussion and Book Signing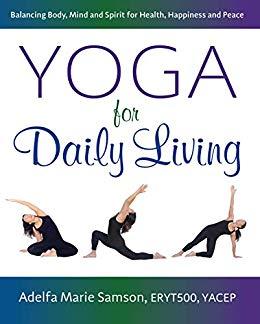 While yoga is one of the keys to a balanced life and health, practicing yoga without pranayama, proper diet and nutrition and meditation is not balanced. Whether you are a beginner or a seasoned practitioner, you'll find "Yoga for Daily Living" an invaluable guide to creating, sustaining and deepening your yoga practice.

Because so many factors affect our personal discipline, lifestyle, action, quality of thoughts, diet and food habits, presence of destructive habits, body rate, ideals and psychological well-being, it is important to have this book as your guide for deeper understanding. Yoga for Daily Living explores holistic healing practices using branches of Yoga and Ayurveda complemented with dozens of illustrations and charts.

You will find in-depth information on:

Yoga – its history, philosophy, evolution, benefits, limitations, role in holistic healing and how to find the right teacher.
Postures (Asanas) – 110 postures are illustrated with English and Sanskrit names, plus 3 types of sun salutations.
Pranayama, Mudras and Bandhas – definition, physiology and functions, benefits and contraindications, dos, don'ts and how-to instructions.

Meditation – definition, overview, benefits, preparation, obstacles to overcome and various meditation tools.
Ayurveda, Diet and Nutrition – definition, origin and history, attributes, gunas and Indian spices' nutritional benefits and curative properties.

Kundalini and Chakras – definition, chakra and opposing energies, kundalini rising, processes and meaning.
Creating your own practice – how to get started with your practice and useful charts.

With rising health care costs, this book offers hope and practical strategies to help readers maintain good health and well-being the natural way.